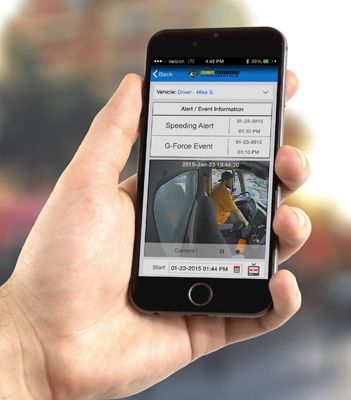 Backup Cameras are Getting Smarter
According to the National Safety Council, the average medium-sized truck has a blind spot that extends up to 160 feet behind the vehicle. So you can imagine that for larger utility trucks that sit higher off the ground, with wider bodies, it's even more difficult for drivers to see pedestrians, other vehicles and property when backing a vehicle.
That's why a growing number of utility fleets are installing backup cameras on their vehicles: to enhance rear visibility and to reduce incidents – and the expense – of backing crashes.
But a new breed of vehicle camera systems is taking visibility to the next level.
Imagine a backup camera that's also equipped with a motion sensor that automatically turns on the camera, records footage and alerts the fleet manager in real time when someone is attempting to steal equipment or tools from the truck. What if the video data captured by that same camera could also be combined with GPS telematics data to help exonerate drivers and the company from false claims?
This combination of advanced camera technology, digital video recorders and telematics is the promise of a new product that Newport Beach, Calif.-based Convoy Technologies (www.convoytechnologies.com) has aptly trademarked as Videomatics.
In a nutshell, Videomatics integrates driver behavior software and telematics (GPS and routing) with live and recorded video from around and inside a vehicle, so that drivers and management can see everything with video that's accessible via PC, tablet or smartphone. That way, fleets can be better equipped to eliminate backing incidents, improve overall driver behavior and generate high-quality video evidence for the purpose of proving fault.
Video data is stored locally on an external hard drive and can also be accessed remotely from the cloud. The local hard drive offers storage capacities up to 2 terabytes, which translates to about 45 days of data.
"What we're seeing in the market is that backup cameras are becoming a standard, a commodity. Now the big question is, how do we turn vehicle camera technology into a tool for overall risk mitigation?" said Blake Gasca, Convoy Technologies' founder and chief executive officer. "That's what has led us to building motion detection sensors into our cameras and making sure the camera system can integrate with a monitor and external device to either broadcast video to the cloud or store it locally on the vehicle."
Videomatics tracks and records events such as speeding, G-shock (impact and vibration), GPS coordinates, geofencing, route deviation, mapping and positioning of an entire fleet. Fleet managers can select whether they want continuous, event-driven or scheduled video recording.
How exactly does crash data recording get triggered?
"It can happen with a hard brake or hard stop or some sort of G-force event," Gasca explained. "Video is stored 20 seconds before the event and 10 seconds after, so you have visibility into what happened before, during and after the event."
While Videomatics can connect up to eight cameras per vehicle, the company said the typical configuration deploys three to four cameras.
How much does the system cost?
Videomatics' monthly subscription pricing is based on a customer's specific system requirements, starting at $59 per system. The company said hardware cost ranges from $300 to $1,700, plus installation, depending on the number of cameras.
Videomatics is available through participating truck equipment manufacturers and upfitters or directly through Convoy Technologies at www.convoytechnologies.com.
---
Sean M. Lyden
Sean M. Lyden has not set their biography yet
---