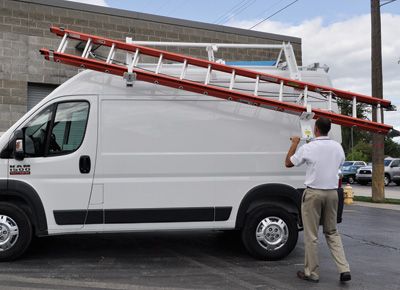 In order to keep employee health costs and downtime to a minimum, ergonomics – or fitting a job to the person performing the job – must play a big role in upfitting fleet vehicles.
Many of today's fleet administrators are tuned in to the importance of employee ergonomics, and an ever-increasing number are focused on keeping their utility fleet vehicle drivers safe and efficient, rather than simply giving them the tools to do their jobs. The mindset has evolved from determining vehicle shelf capacity and how ladders will be stored to asking questions of individual drivers such as:
• Do you need to carry all of your inventory and multiple ladders at all times?
• Which frequently used items can be located near the doors so you don't need to climb into the vehicle?
• Is there a safer way to transport and access your ladders?
• How can you stay safe on the job without sacrificing productivity?
For cargo van drivers, one of the primary ergonomic issues associated with using that type of vehicle is climbing in and out of it, often while stepping over items on the floor with their arms full of gear. To minimize the need to enter the van – as well as the risk of back or joint injury – drivers should determine the tools and inventory they frequently use and place those items near the doors for easy access from outside the van. This can be accomplished using shelving and bins located within arm's reach, drawers that open out through the cargo door and hooks for quick grab-and-go items.
Another major safety concern that stems from the use of cargo vans is the accessibility and use of ladders. Ladders have traditionally been carried on the roof of service vehicles, posing great risk to employees' shoulders and backs when they attempt to retrieve, carry and stow these heavy pieces of equipment. Today, the goal of fleet administrators and upfitters alike is to find a way to make ladder use less of a liability. One solution is drop-down ladder racks. On a cargo van equipped with a drop-down rack, ladders are still carried on the vehicle's roof, but a mechanized rack raises and lowers the ladders up and down the side of the van, delivering improved ergonomics for loading and unloading.
A second option to consider is keeping ladders inside the van. Workers can store short ladders upright on the partition or shelf end, hang them from the ceiling, or stow them under a subfloor or on a ladder shelf. By determining the ladder or ladders that need to be carried first, and by considering the vehicle being used, a utility fleet's upfitter can suggest the best ladder storage options for optimal ergonomics.
Education is Essential
In order to create the most ergonomic vehicle work interiors, it is critical for utility fleet managers to research options, interview drivers and collaborate with the fleet's upfitter. But what happens if – after the vehicles have been upfitted – driver feedback is still less than ideal? What's missing? Is it possible that the drivers don't fully understand how to make the upfit work for them?
Driver education is an essential part of the process of upfitting vehicles for improved ergonomics. When the vehicles are first delivered, fleet managers should be sure to lead a walk-around with their drivers to explain in detail why a shelf or drawer is located in a specific place and what cargo it is intended to hold. Recommend that frequently used items be positioned near the door, while other items can be stored deeper in the van. Demonstrate how to safely load and unload ladders. In addition to being an ergonomics and a safety imperative, training drivers is key to getting the most out of the fleet's upfit investment.
And make no mistake, it is an investment. Fleet managers invest time and money upfront to create a work environment that suits employees, with the goal of improved efficiency and minimized downtime. When upfits and employee training are properly executed, the utility's return on investment will include greater driver satisfaction, increased productivity and more satisfied customers.
About the Author: Tricia Singer has been writing for the commercial vehicle market for more than 18 years and has extensive experience within the commercial van equipment and upfitting industry. Her background includes marketing and graphic design for the Adrian Steel Co. (www.adriansteel.com).
*****
Make Your Current Vehicles Work Better for You
If new vehicles or upfits aren't in your immediate future, here are a few ideas to improve the ergonomics of your current interiors.
• Re-evaluate the cargo you are carrying. Do you need everything?
• Items that are used on most jobs should be stored near the van's doors so you don't have to climb into the van to reach them. Add storage hooks or removable totes to these areas for additional organization.
• Store items that aren't accessed every day – but must be kept on hand – deeper in the van. They'll be easy to locate without getting in the way of other items you need to access more frequently.
• Store large and heavy items on the floor or as close to waist-high as possible to ease in lifting.
• Learn the proper, most ergonomic way to load and unload ladders from the roof racks you are using.