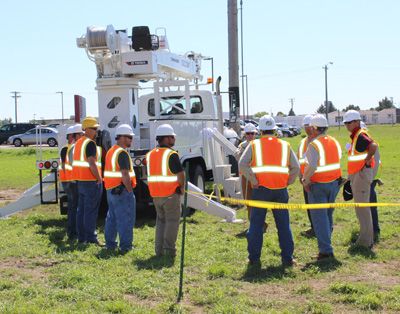 Aerial devices are among the most important pieces of equipment in a utility company's fleet. They are another tool in the utility's toolbox and – like any other tool – must be properly used and maintained.
While it's the responsibility of the employer to ensure that each individual operator is correctly trained and qualified to operate an aerial device, it takes the whole crew to contribute to safe and efficient operations. Following are three important steps crews should take before work starts on any project that requires use of an aerial device, plus real-world tips from Garry Christopherson, director of safety and security for Dairyland Power Cooperative in La Crosse, Wis.
Step 1: Conduct a site survey.
Identify potential hazards, such as buildings, ditches, drop-offs, holes, debris, sewers, overhead obstructions, electrical conductors and underground utilities.
Evaluate the ground conditions. The ground must be firm enough to bear the pressure produced by the bucket truck – including the maximum platform and jib loads – during operation. You may need to use pads under the outriggers to distribute the weight over a greater surface area. If your bucket truck does not have outriggers, or if it is equipped with only one set, make sure all the tires and axle suspension springs are equally loaded. If the ground is slippery, snowy or icy, consider how to prevent the vehicle from sliding.
Consider the terrain. If the vehicle must be parked on a slope, keep the boom on the uphill side, chock the wheels and work off the rear of the truck. Per ANSI A92.2, bucket trucks are stability-tested on firm, flat surfaces up to a 5-degree slope. Never work on a slope greater than what is allowed by the manufacturer. Use your bucket truck's chassis level indicator to make sure the truck is always set within the manufacturer's operational limits. Most aerial truck manufacturers, including Terex, equip their vehicles with an inclinometer that is used to determine if the truck is set up within the allowable limits. Follow the instructions for your vehicle, and recognize that some trucks must be leveled before raising the booms.
Co-op Tip
"We send right-of-way agents and surveyors out to the project site prior to job startup to determine if we need any special permits from the DNR or wildlife organizations to work in the area," Christopherson said. "We then work with these groups to ensure our site setup is safe for our crew and equipment, as well as for the environment.
"Depending on the ground conditions, we may use special matting to park our trucks on, or create a road or special access point for our trucks to travel on," he continued. "In addition, we put up fencing or other barricades to make sure we protect site conditions."
Step 2: Conduct a visual inspection.
Follow the aerial device manufacturer's inspection and maintenance requirements.
Perform a visual walk-around inspection of the entire aerial device for things like structural issues, as well as damaged, loose or missing fasteners, pins or covers.
Verify that ground and platform controls are operating properly.
Check oil, fuel, tires, suspension, torsion bars, outriggers and safety equipment for any leaks, loose items, cracks or damage before work begins.
Using the lower controls, raise and lower the booms through a complete cycle, looking for any malfunctions or problems.
Repair damaged items before use. Always contact the manufacturer if there is any question whether something needs to be repaired.
Co-op Tip
"When multiple operators use the same truck, no one operator can assume that he or she knows exactly the condition the truck was left in by the previous user, which further emphasizes the need for preflight visual inspection and cycling," Christopherson said. For more information about daily preflight inspection requirements, refer to section 8.2.3 of the ANSI A92.2 standard.
Step 3: Hold a job site briefing with the crew.
Review conditions of the job site and potential hazards. Traffic exposure is one of the greatest challenges. Line personnel must take traffic control efforts seriously, including positioning signs – and using flagmen if needed – before and after the work area to capture the attention of drivers sharing the road.
Review necessary tools and equipment. Aerial devices are designed to lift personnel. Do not use them to lift or lower objects unless the aerial device is specifically designed and equipped to do so. Know the maximum bucket and material lift (if applicable) load capacity, and do not exceed it at any point during operation. That means you need to know how much each person, tool and accessory weighs before getting into the bucket. Anticipate how much weight from job site materials (e.g., wood chips that accumulate during work) could be added during operation. Operators must wear an OSHA-compliant fall arrest system with a lanyard attached to the aerial device anchorage at all times. Crews also must be equipped with other PPE, including insulated hard hats, hearing and eye protection, proper boots and suitable clothing. Consider the potential for arc flash exposure and provide additional PPE as required.
Co-op Tip
"Dairyland Power conducts four-day training sessions that include both classroom and hands-on learning," Christopherson said. "We also work with equipment manufacturers, like Terex, to develop strong training programs based on the operator's manuals and practical applications. Operators need to be able to assess the situation and make decisions based on what is going on.
"Once our site survey is done, the crew leader holds a job briefing to discuss all of the elements of the project," he added. "These meetings are held every day we're on-site, and every crew member must attend. It is important that each and every team member understands what needs to be accomplished and what challenges are involved. Because working around traffic is one of our biggest challenges, we follow established protocol for traffic control, setting up road cones or barricades and signs to divert traffic away from the work area. It is the crew's responsibility to know and implement proper setup procedures once the site conditions have been assessed."
About the Author: Jim Olson is product and safety engineer for Terex Utilities (www.terex.com/utilities).
*****
Important Reminders for Aerial Device Operators
Read, understand and follow the instructions in the operator's manual and other manuals supplied with the vehicle.
Never operate the aerial device without knowing the location, function and operation of all the controls, including emergency and accessory operation.
All ground personnel must be trained in the proper procedures to follow in case of an emergency.
When operating the boom, always operate controls slowly and deliberately for smooth movement. Avoid abrupt starts, stops and reversals of direction. Rough handling may cause damage to the aerial device and endanger the operator.
Always be aware of your boom's trajectory before you begin operating. Do not place the boom in open traffic lanes. Stop traffic or barricade lanes to divert traffic from the area.
Always level the unit to within the manufacturer's limits before raising the bucket. Once the bucket is raised, do not adjust outriggers.
Operators must always stand with both feet on the bucket's floor. Do not sit on or climb onto the edge, or use planks, ladders or other devices for a work position.
Protect your crew from falling objects and debris. Keep all ground personnel away from the area directly under the work point unless absolutely necessary, and caution them that it is necessary to constantly be on the lookout for possible falling items.
Always maintain proper clearance from energized power lines. Your bucket truck cannot protect you from phase-to-phase or phase-to-ground contact, which means you need to allow for sag, sway or rocking as you are positioning and operating your aerial device.
Do not allow any ground personnel or bystanders to touch the aerial device, the vehicle or an attached trailer while the aerial device is in operation near electric power lines, even if the aerial device has an insulated lower boom.
If any part of the boom touches an energized object, it should be considered energized.
If any part of the boom contacts a grounded object, it should be considered grounded.
Be aware of any obstacles the lower boom may strike if rotated or elevated, as well as any objects that the booms may come close to as movements are made.
Do not override any safety devices.