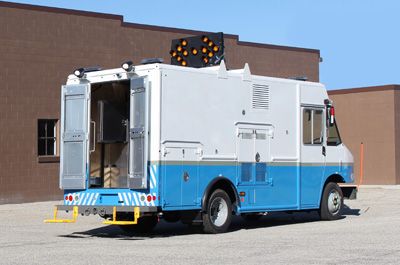 Step vans have become a popular vehicle option for utility fleets, offering distinct safety and productivity advantages over traditional service bodies.
With a step van, the driver can quickly enter from or exit onto the curbside, staying a safe distance from vehicle traffic on the road. Curbside entry and exit are also more ergonomically friendly for drivers, who may make 30 to 60 stops each day. The cab door design on step vans offers advantages, too. While traditional commercial vehicles are built with swing-out driver and passenger doors, a step van's sliding doors allow the driver to more easily move in and out of the vehicle with materials or tools in hand. Here, sound ergonomics influence productivity and drive down costs.
In contrast to service bodies, step vans are built from a bare chassis, with cabs that allow full access to the cargo area. Some also have side cargo access doors, and nearly all step vans allow outside cargo entry from rear roll-up or hinged doors. This means that service tools and materials are easier to get to, which ultimately results in faster service calls.
To reduce weight and eliminate corrosion, step vans are constructed with aluminum sheet and extrusions. Fleet managers can expect these durable vehicles to provide a service life in excess of 15 years.
Another feature of step vans is that because they are highly customizable, with various interior configurations and workspaces available, configuring a mission- or company-specific solution is easy and economical. And, a full-height cab and cargo area, with inside storage, allows drivers to use the vehicle as either a mobile office or prep space for outdoor work.
Step Van Options
The high degree of customization offered by step vans may be overwhelming for those accustomed to a "take it or leave it" product. If you want the convenience of sourcing a complete van from a single supplier, be sure to choose a vendor that can supply you with all of the vehicle's features, rather than just the chassis and body. The following list details the key choices you will need to make when spec'ing a step van.
Gas or diesel? While a gas engine offers a lower initial cost, as well as lower fuel and maintenance costs, diesel engines offer greater fuel efficiency, longevity and hauling capacity. Ford offers a gas-only chassis designed for light- to medium-duty use. Freightliner offers gas or diesel and can handle heavier-duty jobs.
Interior configuration. Interior storage and workspaces can be configured to fit closely with the needs of the specific application. Storage can include shelving, bins, cabinets and drawer units.
Exterior storage. This type of storage can be configured to accommodate a range of equipment, including generators, jackhammers and propane tanks.
Lighting. Today, brighter, more efficient and longer-lasting LEDs are rapidly displacing halogen and incandescent lighting. Exterior lighting options for step vans include illumination of the work area for nighttime operations as well as warning lights for vehicles that operate in high-traffic areas. Interior lighting can be arranged to complement interior storage and workspaces.
Safety options. Multiple points of contact – in the form of grab rails – offer safer and more ergonomic entry and exit, and blind-spot and rear-view cameras provide 360-degree visibility, improving the step van driver's ability to safely change lanes and operate in reverse.
Application-specific options. Task-specific options can include PTO air compressors, hydraulic tool circuits and work-site fresh air climate control.
The step van has come a long way since the early days of the milk truck. If you like the idea of a vehicle that offers improved ergonomics, greater efficiency for frequent entry and exit, and configuration flexibility to serve a wide variety of applications, the step van may be a perfect fit for your fleet.
About the Author: Jason Yunck is business development manager for the industrial and utility segment at Utilimaster (www.utilimaster.com), a leading manufacturer of walk-in vans and commercial truck bodies for the delivery and service marketplace.
*****
Start With Your Needs and the Spec Will Follow
When you search for the right step van, consider the capabilities of your vendor. Do they supply a turnkey solution or just the chassis and body? Do they have a dedicated production line for step vans? Do they have a team focused on the utility market?
If you want a van that precisely fits your needs, find a vendor that listens first, rather than pushes a preconfigured vehicle. To help you prepare for vendor discussions, use this van selection questionnaire to help define your requirements.
• How many times will the driver or crew be in and out of the van each day?
• Will the crew work at night and need to illuminate the exterior work area?
• On average, how many miles will the van be driven per year?
• Is there a preference for gas, diesel, an alternative fuel source or a plug-in hybrid?
• In what weather conditions will the van be operated? Is there a need for a climate-controlled interior workspace?
• What kind of work will be done inside the van? What type and size of equipment needs to be stored?
• How many passengers must be accommodated? Most vans will accommodate one to five people.
• Is onboard AC power – 120 volts or 240 volts – needed?
• Will the vehicle be used in high-traffic areas? If so, warning lights will be required.