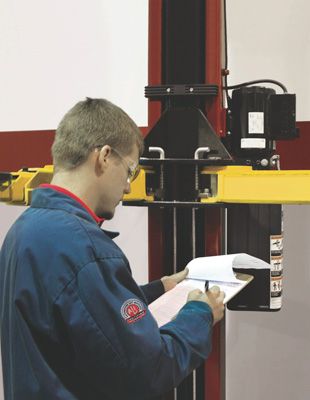 3 Tips for Selecting Heavy-Duty Vehicle Lifts
For utility fleets that perform their own maintenance and repairs, heavy-duty vehicle lifts are an integral part of the process. So, when it comes time to purchase or lease a lift, it's important that the decision is based on good research and a strong understanding of what kind of lift will work best in the fleet's shop. Following are three tips in particular that fleet managers should consider when selecting heavy-duty vehicle lifts.
Tip 1: Invest in Safety
When buying or leasing a heavy-duty lift, one of the best ways to help ensure safety is to invest in certified equipment and options. "There is only one nationally recognized safety standard for lifts: ANSI/ALI ALCTV, administered by the Automotive Lift Institute," said Steve Perlstein, sales and marketing manager for Mohawk Lifts (www.mohawklifts.com).
To determine if a lift and/or lift option is certified, visit www.autolift.org/ali-directory-of-certified-lifts/. If you can't find the lift or lift option you're looking for in the directory, it is not certified for use.
Besides meeting the requirements of the standard, there are several other safety factors fleet managers should consider when selecting lifts. Look for lifts that are made of corrosion-resistant materials. A lift also should be constructed in such a way that, when it is installed in the work area, cords and other parts won't act as trip hazards. Additionally, fleet managers should make certain that the lift they ultimately choose has the proper number of pistons to handle the weight of the fleet's specific vehicle types. And don't forget that easily accessible, free-standing controls give maintenance personnel an increased range of movement while on the job.
Tip 2: Focus on Efficiency
Labor comprises a significant percentage of a fleet's maintenance budget. But fleet managers can significantly reduce costs through the efficiency of their equipment, including heavy-duty lifts.
"The type of lift used can dramatically increase shop efficiency and keep more vehicles on the street versus in the shop," Perlstein said. In fact, he continued, the installation of a single vehicle lift can reduce costs within a fleet maintenance department by up to $100,000 or more in the first year alone, depending on use.
Kirk Dawson, vice president of heavy duty at Rotary Lift (www.rotarylift.com), advises fleet managers to look for lift features that simplify setup, reduce downtime and enable the technician to quickly raise and lower the vehicle to save time during each job.
"Since labor is often a fleet's second-largest equipment and maintenance expense, surpassed only by fuel costs, it is important to maximize the productivity of each technician," he said.
Helpful lift features include:
• Universal adapters for inground lifts that can be easily adjusted for a variety of vehicles.
• Technology that helps to reduce setup time, such as wireless communications, intuitive controls and automatic steering systems for mobile column lifts.
• Pendant controls for inground lifts that simplify the vehicle spotting process.
• Fast-rise speeds that reduce the amount of time the technician has to wait before starting work.
• Automatic ramp chocks and single-point lock releases for four-post lifts, which make it easy to get the vehicle on and off the runways.
Tip 3: Factor in Cost While Ensuring Quality
Cost represents a critical factor when leasing or purchasing heavy-duty vehicle lifts for a fleet facility. But it's not just the cost of the equipment that fleet managers need to consider. "In addition to buying the lift itself, you should also factor in costs for installation, user training and annual inspections," said R.W. "Bob" O'Gorman, president of the Automotive Lift Institute (www.autolift.org).
Some lift manufacturers provide on-site lift-use training as well as safety-related videos on their company websites. And ALI offers "Lifting It Right" at www.autolift.org/ali-store/lifting-it-right-2014-online-edition, which simplifies the training process by covering all lift types in one convenient, Web-based course.
Perlstein has a final thought for fleet managers who are in the market for new vehicle lifts. "Consider the quality of the lift, where it was manufactured and how long it is going to last," he said. "It is also important to evaluate the total cost of ownership, as lifts with a higher initial price but higher quality are worth it in order to avoid costly lift downtime. If the lift is down, the utility truck can't be repaired."
About the Author: Cheryl Knight has written for the fleet industry for more than 20 years. Her work has appeared in Automotive Fleet, Fleet Financials, Government Fleet and a number of other niche-market publications.
*****
What Type of Lift is Right for Your Fleet?
When investing in a heavy-duty vehicle lift, fleet managers must address two key factors: space constraints in the shop and how the lift will be used.
"There are many types of heavy-duty vehicle lifts, so it is important that the fleet manager selects the right kind for the vehicles he or she will be servicing," said R.W. "Bob" O'Gorman, president of the Automotive Lift Institute. "Each lift type also has its own installation needs, which can range from the addition of a simple electrical outlet to breaking concrete."
Among the heavy-duty lifts in use today are mobile column lifts, parallelogram lifts and inground lifts. Mobile lift systems are typically popular with users who are looking for portability and flexibility, while parallelogram lifts require little to no setup. Inground lifts – which were the most widely used lift type until the 1980s, according to the ALI website – offer great space efficiency and excellent access to a vehicle's undercarriage.
For more information about the variety of lifts available in the marketplace, as well as purchasing guidance, visit www.autolift.org.