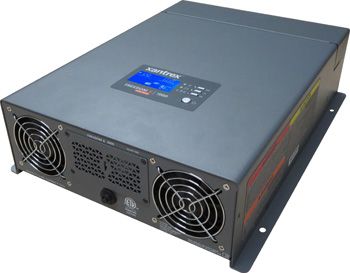 Xantrex No-Idle Solution
Xantrex, a subsidiary of Mission Critical Electronics and a leading supplier of inverters and inverter/chargers, has introduced a no-idle solution to the work truck market. Freedom e-GEN is a lithium-ion battery-based power system that can be requested as an OEM install with most truck upfitters or as an aftermarket solution through Xantrex authorized dealers.
The heart of the Freedom e-GEN system is the dedicated lithium-ion battery bank that offers twice the power capacity in the same physical size as a traditional deep-cycle battery. Available from 125 Ahr to 1260 Ahr as part of a fully customizable power generation system, Freedom e-GEN batteries last six to eight times the life of traditional batteries, providing up to 6,000 charge-discharge cycles.
The Freedom XC Inverter/Charger converts DC electricity from the batteries into stable AC power. It is also power factor corrected to use AC current as efficiently as possible.
Further, the Freedom XC Inverter offers the added benefit of supplying up to 3,000 watts of continuous utility-grade, true sine wave power, which is especially important for proper function of sensitive electronics such as laptops, utility test equipment, and charging bases for power tools and two-way radios. https://xantrex.com
---
Kate Wade
Kate Wade has not set their biography yet
---