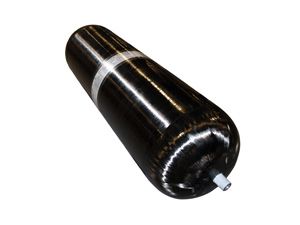 Worthington Large-Diameter CNG Cylinder
Worthington Industries Inc. has expanded its line of compressed natural gas (CNG) cylinders with a new lightweight, large-diameter, 26.2-inch model. This is the company's largest Type III CNG cylinder, and it provides superior fast-fill efficiency. The inner aluminum liner dissipates heat during fast-filling, allowing 15 to 25 percent more fuel storage compared to Type IV cylinders of similar size.
Ideal for Class 8 heavy-duty and refuse trucks, these large-diameter cylinders will fill to rated capacity, making longer routes possible. As with all Worthington Type III cylinders, the aluminum inner liner provides an added safety feature by reducing the risk of flex or fracture in the outer composite reinforcement if an impact occurs.
Worthington Type III CNG cylinders, including the new large-diameter model, are built to aircraft, railcar and watercraft CNG cylinder standards, which are more stringent than typical over-the-road standards. www.worthingtonindustries.com
---
Kate Wade
Kate Wade has not set their biography yet
---