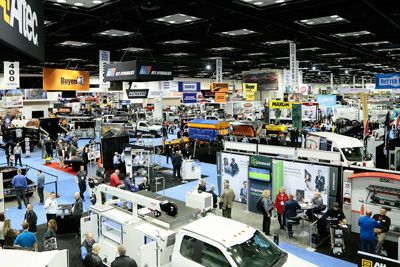 Work Truck Week Keeps Growing
Over the years, Work Truck Week has grown bigger and more robust, providing those in the vocational truck industry with more and more opportunities to discover new products, attend industry-focused educational courses and gain access to professionals who can help them answer pressing questions.
2019 is proving to be no exception. This year's Work Truck Week – which takes place March 5-8 in Indianapolis – will include The Work Truck Show, Green Truck Summit, Fleet Technical Congress and the very first Manufacturer and Distributor Innovation Conference.
In total, more than 100 companies have already announced plans to introduce new work trucks and equipment at Work Truck Week, and at least 15 OEMs will deliver chassis updates. During these update sessions, company representatives will provide insights into future plans, share technical information, and review body and equipment installation options.
Ninety exhibitors are showcasing new products online prior to the event as part of The Work Truck Show's New Product Spotlight and Green Product Showcase programs. Offerings range from transmissions and suspensions to trucks and bodies. To learn more, visit the featured exhibitor section at www.worktruckshow.com/floorplan.
Fleet Technical Congress – designed for both established fleet managers and those moving into more senior fleet management roles – will help fleet professionals learn how to leverage new technologies and processes to find sustainable, creative solutions to enhance fleet operations. General education session topics include restoration and disaster recovery planning, work truck design and securing fuel during supply disruptions.
During the Green Truck Summit, which will focus on the drive toward zero-emission work trucks, attendees will have access to presentations from regulatory agencies, fleet managers, commercial vehicle manufacturers and other stakeholders. General sessions will cover technology and fuel advancements, funding sources, and alternative fuel developments and benefits.
Lastly, the inaugural Manufacturer and Distributor Innovation Conference will teach commercial truck manufacturers, upfitters, distributors and body builders of all sizes how to improve manufacturing efficiency and business results using the latest techniques and technology. After Stan Stanford, general manager of Parker Hannifin, delivers his keynote address, attendees will be able to attend sessions covering topics such as using government programs to improve productivity, building a culture of mentoring and using a lean approach to foster an innovative environment.
*****
When: March 5-8, 2019
Where: Indiana Convention Center, Indianapolis
Snapshot: Produced annually by NTEA – The Association for the Work Truck Industry, The Work Truck Show is North America's largest work truck event, offering attendees the chance to discover new products, attend industry-focused educational sessions and gain access to professionals who can help them answer pressing questions.
---
Kate Wade
Kate Wade has not set their biography yet
---