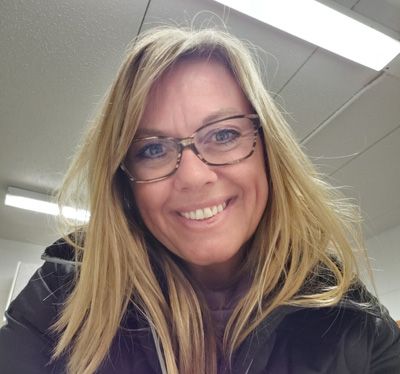 Women in Utility Fleet: Holly Giffrow-Bos
In 2006, when Holly Giffrow-Bos applied for the open fleet position at East Central Energy in Braham, Minnesota, she wasn't exactly sure what she was getting into.
"Automotive is what I knew, but I really didn't know what fleet was all about because it's a completely different animal than the retail automotive business," she said.
Giffrow-Bos knew the automotive business because she worked in dealerships for nearly two decades. She started in the accounting department at a small Ford dealership in Cambridge, Minnesota, after graduating high school. About a year later, she moved to Northern California, where she took a job at another Ford dealership, starting at the service department appointment desk.
"And then I just became a sponge," Giffrow-Bos said. By the time she left that company in 2004, after about 14 years, she had worked her way up to fixed operations manager for the company's two dealerships.
Today, Giffrow-Bos is the fleet supervisor at East Central Energy, overseeing about 200 fleet assets and four technicians.
So, why did Giffrow-Bos get into fleet management after nearly two decades in the automotive business? What challenges has she overcome? And what advice does she have for other women considering a career in fleet?
UFP recently caught up with Giffrow-Bos to learn more about her story. Here is the edited version of our conversation.
UFP: After nearly two decades working at auto dealerships, what intrigued you about going into fleet?
Holly Giffrow-Bos: Honestly, I wanted to get out of the retail business. I wanted to be around equipment, cars and trucks just like I had been, but not in the retail atmosphere. And I wanted a new challenge. It really excited me to be around different types of equipment.
At the time, what interested you about a utility fleet versus being a fleet manager for another type of industry?
Good question. I think it was because I didn't know enough about fleet. So, I didn't know to compare different types of fleets versus utility fleets. But I did know that one of the things that enticed me to join East Central Energy was that it's the local utility cooperative from my hometown. There were a lot of people I already knew working here. It was like coming back to a high school reunion. Besides that, it's a cooperative that has a good reputation for treating all their employees very well. So, I was looking for that long-term stability.
What aspects of your dealership operations experience helped you the most as a fleet manager?
Number one, regardless of whether you're working for a fleet or a retail automotive store, you're managing people. And that's what I learned in the automotive retail business – and it's what I enjoy most about my career in fleet. You're in a position to influence people. You're able to build a good, strong team because your dealership, your fleet, is only going to be as good as the team you build around you.
Another thing I learned at the dealership is managing the finances of the organization. I'm driven to be as effective as possible at watching our financial responsibilities for our membership because that's really what it's all about here [at East Central Energy]. In the fleet department, we're not income as far as the cooperative goes; we're an expense. So, we need to watch our dollars. And having been in operations in the retail business and knowing what I know about financial statements, I'm able to come in here and make sound financial decisions with fleet on behalf of our members.
The third thing is learning how to deal effectively with vendors. In a fleet environment, we have to deal with warranty repairs and work with vendors to help us get those repairs done. So, we have to work with dealerships a lot. Because of my dealership experience, I have been in their shoes. I think that helps me be a very good customer to them. And by being a good customer, you can be more successful for your fleet when you have those good relationships.
What types of challenges, if any, have you experienced as a woman in fleet?
I can probably think for a while and come up with more, but the main thing that it really boils down to is you don't see women in this position very often. People tend to judge because you're right there on the floor, managing this department, yet you never pick up a wrench.
So, there can be the expectation that if you're going to oversee this department day to day, you better know how to take out an oil filter or check oil. Or, you should know what kind of oil a rear differential is going to take. You should know these things.
But that's just the stereotype. When you look at it, that's why you surround yourself with people who make you and the department look good because you put all those people in place.
Look at the CEO of a business or an owner of an automotive dealership. Generally, these people have not come from wrenching in a garage. They've come from different experiences in looking at the business side of things.
Some people think that a woman doesn't have the capacity to know what it's going to take to manage people on the floor when you don't do the type of work they do. But I completely disagree. No, I can't take out a transmission and bench test it or bench build it. When you've got a good relationship with your employees, they're going to be honest with you and guide you to what you need to do that will be best for the employee, the member and your business.
What advice do you have for other women in fleet on how they can flourish in what is still a male-dominated industry?
If people don't trust you or aren't going to give you that respect, I say just take a deep breath and show them what you can do. And if you don't know something, never act like you do. We don't know everything. Just say, "I don't know," but make sure that you're going to find out and follow through on things. And, most importantly, build yourself a good team.
You're going to get kicked down. You're going to get questioned. But prove yourself, and most people will end up having such great respect for you.
---
Sean M. Lyden
Sean M. Lyden has not set their biography yet
---