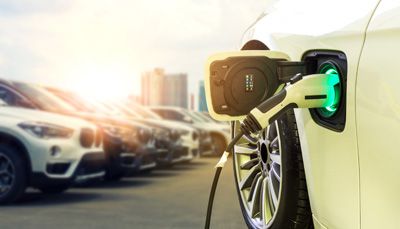 Where Sustainability Meets Service: Finding the Right Fit for EVs in Utility Fleets
For several years, Joe Korn, a truck and alternative fuel consultant with ARI's (www.arifleet.com) business intelligence and analytics team, has been working with some of the company's North American customers to implement alternative fuel strategies.
One of his priorities is to provide fleet expertise to clients aiming to bridge the gap between internal combustion engines and battery electric vehicles.
Korn said that, with the proper infrastructure in place, there can be a long-term cost benefit to implementing EVs into utility fleets, and the reduction of fossil fuel emissions is a significant benefit as well.
"I am 100% behind electric vehicles," Korn said. "There's been a lot of interest from companies on how to incorporate electric vehicles and other alternative fuels into their fleet and how they can work towards sustainable strategies and lower pollutions."
In most scenarios, the transition to electrification is most beneficial for vehicles under 10,000 pounds GVWR, such as typical passenger vehicles, SUVs, vans and light-duty trucks, Korn said.
Meter-reading and shorter-range vehicles often are the easiest to transition, he noted, while the transition of Class 3-6 units also is possible in certain applications. Keep in mind, however, that more complex units will require creative vehicle engineering and a comprehensive charging infrastructure, according to Korn.
Unless operating under a state or federal grant, the transition of large-scale fleet vehicles – Class 4 and above – will take more time, but it is possible within the next five years, Korn said. For instance, the construction of in-house battery recharging stations is a costly but overall worthy investment.
In some applications, fleet operators may be able to reduce maintenance costs upward of 60% by making the switch to an electrified vehicle, Korn predicted.
He believes that interest in fleet electrification will continue to slowly increase over the next several years as businesses strive to reduce carbon emissions and overhead costs in fossil fuels. But, he added, it is unlikely the switch will happen all at once; rather, segments or portions of fleets will transition little by little.
Right now, electric batteries cost about $200 to $300 per kilowatt hour, Korn said. But when that number drops to around $100 or less, the interest in electrification will increase.
"We believe it's going to ramp up," he said. "The technology is definitely taking off. There's been a lot of curiosity, and a lot of interest from companies on how to become electric."
Taking the Lead
Todd Carlson, principal manager of fleet asset management at Southern California Edison, is helping the utility take the lead in its effort to make three-quarters of light-duty vehicles, two-thirds of medium-duty vehicles and one-third of heavy-duty vehicles in the state electric by 2045.
Those are the levels of EV adoption that must take place, according to SCE's Pathway 2045, the company's analysis of the steps California needs to take in order to meet its 2045 goals to clean the electric grid and reach carbon neutrality (see www.edison.com/home/our-perspective/pathway-2045.html). EV adoption also helps with air quality standards sought by large portions of the state.
There are 100 types of on-road vehicles in SCE's fleet, according to Carlson, and pickup trucks already have seen the beginning stages of the transformation to electric. There are currently around 1,400 half-ton pickups in SCE's fleet.
To reduce the overall cost of fleet, SCE also is working on managed charging to help utilize existing electrical infrastructure.
Looking ahead, the utility continues to electrify forklifts, all-terrain vehicles and utility task vehicles, Carlson said, adding that the coming electrification of pickup trucks will have a major impact on SCE's fleet.
"Our vision at [Southern California Edison] is to provide power to all of our customers that reflects renewable, carbon-free energy," Carlson said. "We're working on technology that helps with green integration."
The company's urban crew trucks also are an excellent application for electrification, according to Carlson. With minimal excessive distances driven daily, most of the power and energy are consumed on job sites.
A security guard patrolling a campus in a vehicle driven at low speed essentially is the same as idling a gasoline vehicle for hours on end, Carlson said. When the vehicle is electrified, you remove many hours of engine time and fuel consumption.
"When you eliminate an idling vehicle to replace it with an electrified solution, the total energy consumption drops dramatically," he said. "We see significant fuel savings."
About the Author: Max Chesnes is an award-winning environmental journalist based in Vero Beach, Florida. Follow him on Twitter at @MaxChesnes.
*****
Key Goals from Southern California Edison's Pathway 2045
75% of all California vehicles to be electrified by 2045
76% of all light-duty vehicles to be electrified by 2045
67% of all medium-duty vehicles to be electrified by 2045
38% of all heavy-duty vehicles to be electrified by 2045