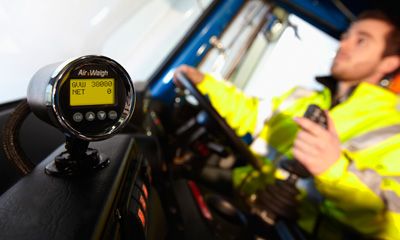 What to Consider When Spec'ing Onboard Scales
Operating an overloaded truck is categorized as a misdemeanor in most U.S. states. Aside from putting the safety of the operator and the public at risk, overloading also can increase fines and lead to premature vehicle wear and tear.
Fortunately, the availability of today's onboard scale technology can help utility fleet managers ensure trucks operate at a safe weight.
So, what exactly should fleet managers consider when spec'ing onboard scales? Utility Fleet Professional connected with industry professionals who shared insight into selecting the right applications for your fleet.
Benefits of Technology
Nebraska Public Power District has been using onboard scale systems for more than 10 years and currently has approximately 20 scale systems in use between tractor-trailer units and dump trucks.
NPPD's primary reason for installing the scale systems was to verify loaded axle weights to ensure they were compliant with DOT bridge laws.
"The benefits were almost immediate due to the fact that operators could place a load on their trucks at the job site and know if they were within the legal weight-carrying capacity of their truck or trailer," said Robert Barbur, fleet services superintendent for NPPD.
The fleet researched three types of scale systems: one that uses air suspension, one that uses a trunnion/spring set and one that uses forces related to dump-body hydraulics.
"Generally speaking, it comes down to what type of suspension the truck or trailer uses when you put them on – proactive or reactive," said Matt Gilliland, director of transportation and facilities for NPPD.
Gilliland said NPPD's preference is the air suspension design, which costs less money and is accurate and easy to use. It also can be interconnected to trailers.
"The Air-Weigh [air suspension] system uses the tractor's multiplex system for sending data from the trailer to the display in the truck cab," Barbur explained. "This allows us to couple any trailer with an Air-Weigh system to any of our tractors that have the Air-Weigh system installed."
In addition, Barbur shared that the systems can be installed at truck manufacturer facilities before they are delivered, which saves the utility time to the final in-service of the chassis.
Besides the Air-Weigh (https://air-weigh.com) system, NPPD uses the Vulcan scale system (https://vulcanscales.com) on some of its dump-body applications. The system senses the load of the material in the dump box via a hydraulic cylinder and/or the spring pins on the chassis to measure the weight of the load.
"This system has also worked well for us and continues to provide trouble-free service," Barbur said.
What's Your Scenario?
When selecting a scale system for your fleet assets, a choice should be made based on how the system will be used. Barbur provided two scenarios to consider.
Scenario 1: Legal limits. You might be seeking a scale system that will help you ensure your truck is DOT bridge legal and you are within the limits of your local laws as far as axle weights are concerned.
Scenario 2: Purchase weight. You are hauling a material and this material needs to be weighed for purchase by the end customer, which will require a legal-for-trade scale system.
Barbur recommended talking to several scale system manufacturers to get input from them about what their systems can and cannot do. He also suggested talking to other fleets using onboard scale systems to confirm how they function in real-world situations.
Lastly, fleet managers should do their research on the support of the product, such as finding out if the scale manufacturer offers system support through OEM truck chassis dealers and how large their support network is.
About the Author: Grace Suizo has been covering the automotive fleet industry since 2007. She spent six years as an editor for five fleet publications and has written more than 100 articles geared toward both commercial and public sector fleets.
*****
Watch Your Truck's Weight
Because operating an overloaded truck is a misdemeanor in most states, multiple offenses can lead to jail time and loss of an operator's commercial driver's license, according to Air-Weigh.com.
Fines and penalties for loads that exceed specified weight limits vary from state to state, with hidden penalties sometimes contributing to even larger fines.
Here are several examples of penalties and fines cited by Oversize.io:
Oklahoma: $208.90 fine for 0 to 2,000 pounds overweight.
Indiana: Approximately $40, not including court costs.
West Virginia: An out-of-state vehicle can be impounded, in addition to being subject to overweight fees.
Texas: First offense is a fine up to $150. The second and third offenses tack on jail time of 60 days and six months, respectively.
New Jersey: In addition to a fine, the company will be held responsible for any damage done to a bridge.
Source: Air-Weigh.com