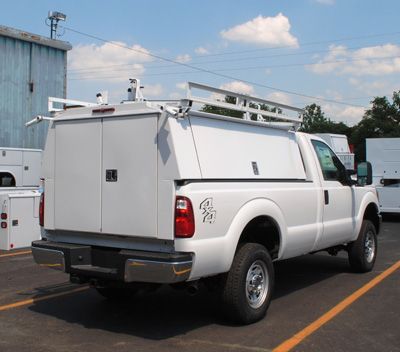 What's New in Truck Bodies for Utility Fleets?
Are you looking to empower your crews to get more work done both faster and more safely? Do you want to increase each truck's legal payload without bumping up to a larger vehicle? Some of the industry's leading truck body manufacturers are rolling out new products and design enhancements for 2015 to help utility fleets achieve these objectives and more. Following are four new truck body offerings you can expect to see this year.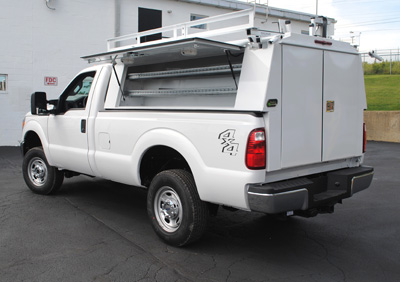 Manufacturer: Reading Truck Body
What's New: Aluminum Bed Insert for Pickup Trucks
URL: www.readingbody.com
Reading Truck Body has developed a lightweight aluminum bed insert, which is a self-contained, covered cargo compartment that "inserts" into the pickup bed. It enables fleet managers to increase a pickup truck's cargo capacity and storage security, with minimal impact on the truck's legal payload.
Since the aluminum insert is not permanently mounted onto the truck, it can be easily removed and transferred to another vehicle, allowing for extended use of the product beyond the initial vehicle's life cycle. As of press time, the product is only available as a special order, and the company says it's designing vocational-specific configurations, including applications for utility and telecom fleets.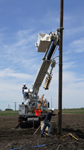 Manufacturer: Terex
What's New: Fiberglass 4th Section for General 80 Digger Derricks
URL: www.terex.com/utilities
How do you extend the reach of a digger derrick while keeping crews safer when operating the truck near power lines? Consider Terex's new insulated fiberglass 4th section option for the company's line of General 80 digger derricks. Replacing the non-insulated steel 4th section on previous models, the fiberglass version is designed to meet the industry's demand for increased insulated digger derrick reach heights. This way, crews can set poles and perform line work with an 80-foot digger derrick, all with greater safety and peace of mind for their employers.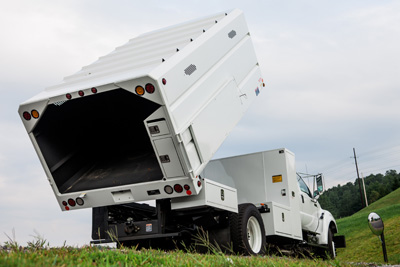 Manufacturer: Altec
What's New: AF 1360 Steel Chip Dump Body
URL: www.altec.com
Altec's AF 1360 (13 feet long; 60-inch-high sides) chip dump for tree-trimming truck applications offers utility fleets a smaller alternative to the standard 1472 (14 feet long; 72-inch-high sides). The larger the body, the greater the risk there is of overloading the truck. The AF 1360 chip dump gives fleet managers confidence that their crews can get the job done while staying within legal payload limits.
The AF 1360 also offers new safety features, such as a manual safety prop with a side lever so that maintenance staff can ensure the body is properly secured in the full-tilt position before performing any maintenance underneath the dump body. Additionally, ladders and pruners – which traditionally have been stored on the street side of the vehicle – are now mounted on the curbside of the AF 1360 body. This helps to keep crews out of harm's way from vehicle traffic when grabbing the tools they need to do their jobs.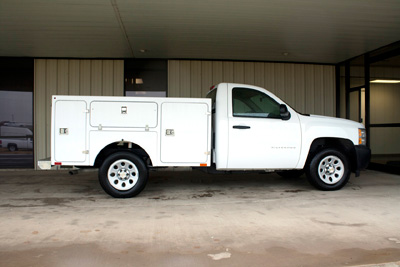 Manufacturing: BrandFX
What's New: 56LS All-Composite Service Body
URL: www.brandfxbody.com
Looking to significantly boost the legal payload of your trucks without compromising durability? That's what BrandFX's new lightweight 56LS all-composite 8-foot service body is designed to do. It's the first service body to feature lightweight composite material throughout the construction of the body, including the understructure, bulkhead and tail skirt.
At 485 pounds, the service body is roughly the same weight as a pickup truck bed and more than 50 percent lighter than comparable steel bodies. The company says its 9-foot all-composite body is currently in the testing phase and will be suitable for aerial applications.
---
Sean M. Lyden
Sean M. Lyden has not set their biography yet
---