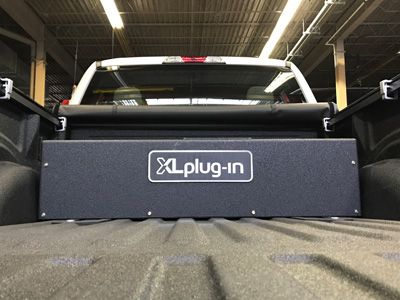 What's New in Truck and Van Upfits for Utility Fleets
As you evaluate the specs for your truck and van fleet this year, where do you see the best opportunities for improvement?
Could you take weight out of a truck to reduce fuel costs or increase legal payload?
Could you upgrade equipment so that crews could get more work done in less time with improved safety?
Or, could you electrify certain vehicles to cut both fuel consumption and your fleet's carbon footprint?
Here are six new developments from truck and van equipment manufacturers that could help you uncover and capitalize on opportunities to improve your fleet specs and performance.
XL Hybrids
What's New: XLP plug-in hybrid-electric upfit for F-150 SuperCrew; CARB approval
URL: www.xlhybrids.com
XL Hybrids Inc. recently announced that its XLP plug-in hybrid-electric system is now available for the Ford F-150 SuperCrew. The company also announced its newest approval from the California Air Resources Board (CARB), which gives California-based organizations assurance that XL-equipped fleets will meet the Golden State's rigorous testing and restrictions for carbon emissions.
Vehicles upfitted with the XLP system maintain the full factory warranty and receive a three-year, 75,000-mile warranty from XL Hybrids on the XLP powertrain. The system also includes XL Link cloud-based analytics, which collects millions of operational data points, measuring fuel economy performance and carbon dioxide emissions reductions, along with other key performance indicators.
BrandFX
What's New: UltimateFX composite body and understructure for 56LS and 60LS configurations
URL: http://brandfxbody.com
Last fall, BrandFX announced that the UltimateFX, which features a lightweight all-composite service body and understructure combination, is now available for the 56LS (for 56-inch cab-to-axle chassis) and 60LS (for 60-inch cab-to-axle chassis) configurations.
According to the company, the UltimateFX is lighter than aluminum, while meeting the same standards for toughness as conventional steel. And it includes the first all-composite understructure on the market, which BrandFX says enables fleets to remount the body onto several chassis without worrying about corrosion, which traditionally has been a challenge with service bodies constructed with metal understructures.
Terex
What's New: Optima Series added to Hi-Ranger distribution aerial device product line
URL: www.terex.com
In the fall, Terex Utilities debuted the Optima TC, TCX, HR and HRX Series, which features product enhancements in the heart of the company's Hi-Ranger aerial device product line. Upgrades include greater payload capacity, better boom speeds, and enhanced side reach and ground access.
By using high-strength steel to reduce overall vehicle weight, Optima TCX and HRX now offer up to 1,000 pounds more vehicle payload capacity, depending on specific configuration and stability requirements. And Optima TC and HR models offer 3 feet more side reach, with a visual indicator light that shows the operator when the boom moves into the extended reach area of the working range. The optional Load Alert system further enhances safe work practices by monitoring the truck's jib and basket capacity to reduce the risk of overload.
Dejana
What's New: 3/4 DuraRac Interior Shelving System with optional interior ladder rack
URL: https://dejana.com
In December, Dejana Truck & Utility Equipment introduced the 3/4 DuraRac Interior Shelving System, which provides an additional 10 inches of space along the left side and can be configured with an optional interior ladder rack that eliminates the need for a roof rack, offering better security and improved fuel economy. The space also can be left open for storage of large items, such as signs, plywood or sheetrock.
The DuraRac Interior Shelving System features a design that lets you slide the entire storage system outside the vehicle for easy – and ergonomically safe – access to tools, parts and equipment. And the heavy-duty adjustable shelves can hold up to 300 pounds. Additional shelving units and inserts are available so fleets can configure the DuraRac system to fit their specific needs.
Altec
What's New: Low-profile fiberglass enclosed service body
URL: www.altec.com
Altec recently introduced the company's new low-profile fiberglass enclosed service body for three-quarter-ton and 1-ton trucks. The fiberglass construction reduces weight of the body to increase fuel efficiency and payload capacity, without sacrificing durability. And the body's low-profile design allows for easier access into parking garages and other low-clearance areas.
On the exterior, the new body offers horizontal and vertical compartments with an integrated ergonomic ladder rack system on top that can hold two large ladders. The lightweight composite core material is manufactured with cross-linked polymer foam and fiberglass, which Altec says gives the body superior strength and increased payload capacity for heavy-duty utility fleet applications.
Masterack
What's New: Embossed aluminum van interior packages
URL: www.masterack.com
Masterack recently introduced its embossed aluminum van interior system that offers the same level of strength and durability as the company's other aluminum products, but with an embossed texture that gives the system a cleaner look – to conceal minor scratches and fingerprints that are usually difficult to remove from conventional aluminum products.
This aluminum system – which the company says is about 30 percent lighter than comparable steel shelving – features toolbox cradles, full-length drawers and a wide range of customizable accessories. And aluminum's noncorrosive properties mean that the system will not rust, increasing its usable life while reducing total cost of ownership.
---
Sean M. Lyden
Sean M. Lyden has not set their biography yet
---