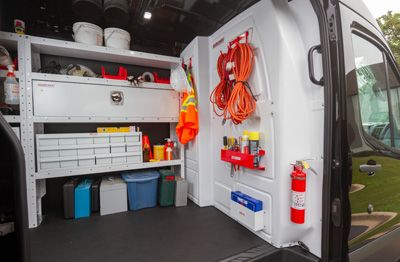 What's New in Truck and Van Upfits for 2020?
The industry's leading body manufacturers and upfitters in the truck and van sector are developing new products that equip your crews to get more work done in less time and with less strain.
Some companies are incorporating lighter-weight materials in their product designs so that you can increase a truck's payload without bumping up to a larger vehicle. Others are adding more versatile tool storage options to enhance accessibility and improve ergonomics – to offer a safer work environment for your crews.
So, who are these truck and van equipment providers and what are some of the products and design enhancements they've brought to market recently to help you achieve your fleet objectives? Here are eight new developments to watch.
WEATHER GUARD
What's New: CabMax Composite Bulkhead
www.weatherguard.com
In November, WEATHER GUARD introduced the company's new lightweight CabMax Composite Bulkhead to enhance driver comfort, reduce noise and increase customization options for fleets.
The composite bulkhead weighs 55 pounds, which is 25% lighter than a comparable steel bulkhead, according to the company. And the new bump-out design of the bulkhead allows the driver's seat to recline up to 35 degrees, which the company says is the largest driver-seat range of motion in the industry.
In the past, van bulkheads – which separate the driver from the cargo area, providing protection from shifting loads – were not designed to have van storage components or other accessories mounted on them to maximize cargo space. But the new CabMax Composite Bulkhead offers accessory panels that can be placed in 14 different attachment points. The accessory panels are designed to accompany WEATHER GUARD REDZONE accessories, but they also offer standard threaded inserts to use off-the-shelf attachments.
Terex Utilities
What's New: Spin Bottom Drill Bucket
www.terex.com/utilities
In October, Terex Utilities introduced a new Spin Bottom Drill Bucket for use with digger derricks to improve worker productivity when drilling in unstable ground conditions, such as wet or sandy environments.
As the tool drills into the ground, barrel teeth cut through the material while the bucket captures it, allowing the operator to dump the material outside of the hole.
"When the ground material won't stay on the auger carry flight, the Spin Bottom Drill Bucket enables digger derrick operators to clear a hole faster and easier," said Dale Putman, product support manager for auger tooling and auger drills.
The tool is available in sizes up to 36-inch diameter and features 5/8-inch wall thickness, 30-inch barrel length and 104-inch overall length.
While Terex Utilities has offered similar tools for auger drills, this is the first time this type of tool has been available for digger derricks.
LiftWise
What's New: Single Man Folding Basket for service cranes
https://lift-wise.com
The Diversified Products brand LiftWise introduced its new Single Man Folding Basket for service cranes in January. The basket provides fall arrest and fall protection while eliminating the need for ladders or climbing on equipment.
The basket is attached to the crane head using an adapter that is specifically built for each make and model of crane. When they are finished using the basket, crews can fold it in less than a minute.
Weighing 230 pounds, the basket offers a 350-pound capacity with a full-sized floor to accommodate workers and materials. The floor is designed with slots that allow water to drain and upset holes that provide skid resistance.
Kargo Master
What's New: Updated drop-down ladder racks
www.kargomaster.com
Kargo Master recently updated its lineup of drop-down ladder racks, which are available in both aluminum and steel and feature increased protection for vans and improved ergonomics for workers.
Updates include a new clamping arm that can rotate below the crossbow for easy loading and unloading, as well as new clamp and lock-specific mount kits for the lowest possible roof clearance. The aluminum drop-down racks now offer full rotational actuation for easier access.
Dakota Bodies
What's New: Ranger Service Body
www.dakotabodies.com
Dakota Bodies now offers an aluminum service body for the new Ford Ranger midsized pickup. The Ranger Service Body is a compact unit for lighter payload applications and easier maneuverability on narrow streets and in low-clearance parking garages.
The Ranger Service Body is 69 inches long and weighs 575 pounds. It's available for the Ford Ranger 2×4 and 4×4 Supercab models with XL trim and no Co-Pilot 360.
BOLT Lock
What's New: One-Key locks for Ford Ranger
www.boltlock.com
BOLT Lock now offers a complete set of their One-Key locks for the new Ford Ranger pickup, including padlocks, 5/8-inch receiver locks, 6-foot cable locks, coupler pin locks, collar-kingpin locks and off-vehicle coupler locks.
The company uses patented technology to create tumblers that permanently memorize a vehicle's ignition key upon the first insertion and rotation. By utilizing the vehicle's ignition key, BOLT locks reduce key clutter and allow users to quickly locate the key needed to unlock each individual lock on the truck. Every lock resists picking and bumping, while a bright red design acts as a visible theft deterrent.
Venco Venturo
What's New: Venturo Logic Controls crane control management system
www.venturo.com
To enhance safety, control and reliability, Venturo released an advanced control system for its line of fully hydraulic service cranes.
The Venturo Logic Controls crane control management system offers overload protection; vehicle stability and grade indications; real-time load and status updates; safety alerts; and wireless or CAN communication. These features help prevent potential damage to loads and injuries to job site staff.
The VLC system comes standard with a wireless-remote pistol-grip controller, which reduces operator fatigue and enhances comfort.
Prime Design
What's New: Over-the-cab material rack
www.primedesign.net
In January, Safe Fleet's Commercial Vehicle Group announced that the company will introduce its new Prime Design branded over-the-cab material rack for 8-, 9- and 11-foot service bodies at NTEA's Work Truck Show 2020 in Indianapolis this March.
The new lightweight aluminum cargo rack adds overhead cargo space while offering 1,200 pounds of payload capacity. It features standard crossbar end stops, a removable rear crossbar with easy-pull latch system, and side rails that allow side-loading with a forklift or for when you are working from the curb in tight, congested areas.
The company also offers optional cargo management accessories to customize the rack, such as retractable ratchet straps, cargo hooks, a conduit tube and mounts for lighting.
---
Sean M. Lyden
Sean M. Lyden has not set their biography yet
---