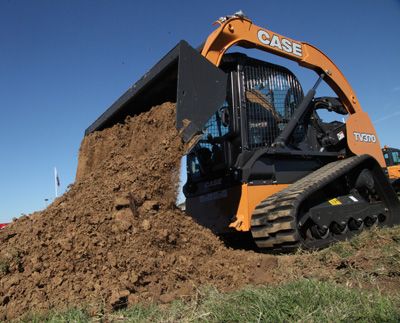 What's New in Digging Machines for Utility Fleets?
Whether the job is to dig trenches to lay underground power lines, to drill holes to set poles, or to dig in tight spaces, such as next to buildings or in residential backyards, the objective remains the same: to enable crews to get the most work done in the least amount of time, with the least amount of effort, in the safest way possible.
That's the goal that has driven the design of new products and upgrades released by heavy-equipment manufacturers in recent months.
So, what's new in digging machines for 2018? How can they help utility companies and contractors improve worker productivity and safety? Here are six new developments to consider.
CASE Construction Equipment
What's New: TV370 compact track loader
Website: www.casece.com
CASE Construction Equipment introduced the TV370 compact track loader (CTL) that offers utility contractors a smaller 74-horsepower option in a large-frame vertical CTL with a 3,700-pound operating capacity for earthmoving, load and lift applications, and heavy attachments.
The TV370 is suited for utility applications where operators value lift capacity and strength but may not require higher horsepower to run high-volume production attachments. The machine provides auxiliary hydraulics for traditional attachment use in standard and optional high-flow hydraulic setups.
Equipped with standard 17.7-inch-wide tracks, the TV370 also offers enhanced stability and low standard ground pressure for operation on varied terrain and sensitive ground.
Ditch Witch
What's New: Low-profile HX vacuum excavators
Website: www.ditchwitch.com
Ditch Witch launched a new lineup of HX vacuum excavators designed for a wide range of utility applications – from compact, urban projects to large-scale excavation, potholing, slot-trenching and micro-trenching projects. The company says that the low-profile design allows for easy navigation on most job sites, without compromising ground clearance.
The HX series includes three models – the HX30, HX50 and HX75 – equipped with a Kubota Tier 4 Final engine, with horsepower levels ranging from 24.8 for the HX30 to 74 for the HX75. According to Ditch Witch, the three units provide more fuel capacity than each of their predecessors for longer job durations, with more advanced sound-reducing technology to minimize noise disturbance at the job site.
Tank options include either a 500- or 800-gallon debris tank, and each model is available in a light or heavy package with various freshwater tank sizes and trailer weights to best fit the application.
Altec
What's New: DB41B track-mounted digger derrick
Website: www.altec.com
Altec introduced the new DB41B, a track-mounted digger derrick that provides easier access to confined work areas, such as residential backyards, with the ability to drive on front-to-back and side-to-side slopes of up to 15 degrees. The machine's retractable tracks reduce the minimum width of the unit to fewer than 36 inches so that it can fit through most gates.
The DB41B is designed to set and service poles up to 55 feet and offers a 6,000-pound maximum lift capacity. Available options include a fiberglass jib with separate winch, 8-foot fiberglass jib, 5-foot fiberglass platform jib and radio remotes with hydraulic overload protection (HOP) indicator.
To enhance operator safety, the machine also includes Altec's five-function HOP system that disables certain functions during lifting operations when the system detects a potential overload situation.
Bobcat Co.
What's New: E85 compact excavator
Website: www.bobcat.com
Bobcat Co. expanded its R-Series excavator lineup with the new E85, the largest machine in the company's compact excavator product line.
The 13 inches of tail overhang allow the E85 to work in compact environments. And the boom swing frame stays within the width of the machine's tracks as it swings, making it easier to operate next to buildings or other obstructions where larger equipment can't fit.
Bobcat redesigned the new E85 cab to improve operator comfort and productivity with a roomier cab and wider seats. The machine also features a standard, easy-to-reach control pattern selector that allows the operator to quickly switch from ISO controls to standard controls. And with the repositioned second auxiliary hydraulic selector switch, operators can toggle between the second auxiliary and the boom offset without removing their hands from the left joystick.
Terex Utilities
What's New: Optional Load Display on Commander Digger Derricks
Website: www.terex.com/utilities
Terex Utilities now offers Load Display as an option for its Commander Digger Derricks to reduce the risk of overload and support safer work practices. The Load Display system includes a load cell, attached between the winch line and hook, that measures the actual winch line pull and then wirelessly transmits that value to a display at the control station to assist operators as they follow the load chart.
This system was one of several concept technologies Terex Utilities featured at the International Construction & Utility Equipment Exposition last fall, and fleets can now request Digger Derrick Load Display on new Commander Digger Derricks or have it retrofitted onto existing models.
Ditch Witch
What's New: AT40 All-Terrain horizontal directional drill
Website: www.ditchwitch.com
Ditch Witch's new AT40 All-Terrain horizontal directional drill is powered by a 160-gross-horsepower Tier 4 Cummins diesel engine that, according to the company, gives operators 20 more horsepower over competitive 15-foot drill-pipe models in its class.
With the capacity to hold up to 600 feet of drill pipe onboard, the AT40 allows for longer bores with improved drilling efficiency with a two-speed rotational drive system that produces 5,500 foot-pounds of torque. The drill also is equipped with a 70-gpm, 1,100-psi mud pump to increase fluid flow from the pump to the swivel.
The AT40 features enhanced RockMaster housing with a modular design that makes it adaptable to two different drill-bit sizes for 2.875-inch and 3.5-inch regular API connections. The new housing design includes a double-layer seal with high-capacity bearings, increasing downhole life and doubling the service time interval compared to previous models.
---
Sean M. Lyden
Sean M. Lyden has not set their biography yet
---