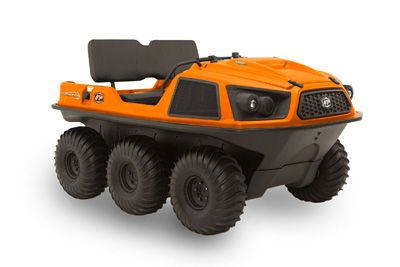 What's New in All-Terrain Vehicles for Utility Fleets?
Today, a wide range of options are available to help utilities get work done in hard-to-reach areas where conventional and even four-wheel-drive vehicles cannot go. Following are five new developments in the all-terrain vehicle space that can help utility companies get their crews and equipment across various terrains safely while also boosting productivity.
ARGO
What's New: 2020 updates to Frontier, Aurora and Xplorer lines
Website: https://argoxtv.com
ARGO has expanded its lineup to include six all-new Xtreme Terrain Vehicle (XTV) models, new 950- and 850-Series engines, and more innovative improvements. They're joined by five all-terrain vehicles boasting improved suspensions, more features and added colors.
All new for 2020, the Frontier line of six- and eight-wheel XTVs offers more spacious seating, new controls, the ARGO Progressive Steering (APS) system and deluxe gauges.
The Aurora family is expanding to nine models and highlighted by new big-block 850 and 950 V-Twin EFI engines that deliver 33 and 40 horsepower, respectively. These units offer premium seating, APS for smooth cornering and ultimate cargo capacity. The new Aurora Bigfoot MX8 comes equipped with all-new 25-inch mud tires that feature improved propulsion in water. It also features 9-inch aluminum bead lock rims, a 950 EFI engine, smooth-steering APS and the ability to motor through thick mud conditions. New for 2020, the Aurora SX-R and Responder-R models come standard with a new rollover protection structure.
ARGO's Xplorer line of premium ATVs features improved suspension performance for enhanced handling, LED eyebrow lights on select models, new colors and painted black body panels.
Morooka USA
What's New: Utility VDL series
Website: www.morookacarriers.com
Morooka's carrier design includes six models to choose from, each customized to solve various project needs.
For high maneuverability, power and payload, the Kubota-powered Morooka MST600VDL is one option. Featuring a ROPS-certified canopy (cabin optional), the MST600VDL will come direct from the factory with a ready-to-mount, one-piece frame manufactured to the user's required length. It also is large enough to mount a small crane or other custom equipment. For larger platform requirements, the MST800VDL and MST1500VDL are available. Maximum load capacity ranges from 14,000 to 46,000 pounds.
The largest machine in the lineup – the MST4500VDL – runs on a 350-horsepower engine, full 3-foot-wide tracks and a 23-ton maximum load capacity. It even has the ability to put a crewman safely and comfortably at a job as far as 125 feet from the rig, according to the company.
Morooka offers a one-year/1,000-hour warranty on all VDL models.
PRINOTH
What's New: PANTHER T7R
Website: www.prinoth.com
The PANTHER T7R is designed to boost productivity levels up to 31% and provide added safety and security on the job, all while maximizing fuel efficiency. With a 52.8-gallon fuel tank capacity, operators will be able to work through a whole day without needing to refuel, according to PRINOTH.
The ergonomic design of the crawler carrier provides maximum comfort with unrestricted cab views for greater visibility on the job site. Measuring in at just under 95 inches wide, the unit complies with standard transportation regulations, plus it is much easier to transport from one site to another. The PANTHER T7R includes a combined pedal and steering wheel for easier maneuverability and safety. It is the first crawler carrier on the market to be equipped with the EUROMOT Stage V engine, according to the company.
PRINOTH carries a full range of tracked vehicles from 12,000 pounds to 46,000 pounds of payload capacity. The PANTHER T7R is the latest model to be added to the product line and was first introduced in spring 2019.
Terramac
What's New: RT6U, RT9U and RT14U Utility Carriers
Website: www.terramac.com
Compared to standard Terramac models, the new RT6U, RT9U and RT14U utility carriers are built with a unique extended frame and hydraulic mount system. This specialized design simplifies the mounting process to accommodate a variety of utility support equipment, including digger derricks, lineman winches, vacuum excavators, boom lifts, concrete mixers and fifth wheels.
The Terramac RT6U boasts a compact footprint of 25 feet 8 inches by 8 feet 2 inches. It is ideal for jobs in tight spaces that don't require the payload capacity of a larger unit. The RT6U also can be legally hauled on an existing tag trailer as additional permits are not required for transport.
The midsized RT9U and heavy-duty RT14U crawler carriers accommodate taller lifting devices and heavyweight support equipment while also offering more torque and power than other crawler carriers in their class, according to Terramac. These units are especially useful for utility job sites located in remote areas where access is difficult for larger, wheeled machinery.
The Terramac utility carriers also feature innovative rubber track technology and low ground pressure, which enable utility crews to easily maneuver through adverse ground conditions and climb faster on steep and hilly terrain.
Polaris
What's New: Redesigned GENERAL XP 1000 and RANGER series
Website: https://commercial.polaris.com
Polaris has debuted the all-new 64-inch Polaris GENERAL XP 1000, available in both two- and four-seat models with 100 horsepower, 13.5-inch ground clearance and improved long-travel suspension. The GENERAL XP 1000 and XP 4 1000 are equipped with new long-distance LED headlights and redesigned, high-coverage fender flares. The GENERAL XP 1000 lineup has a 1,500-pound haul and towing capacity through its 2-inch receiver. The GENERAL XP 1000 and XP 4 1000 feature a rearview mirror as well.
Polaris also has introduced the new RANGER 1000 and RANGER CREW 1000, an all-new class of extreme performance side-by-sides.
Through 65 years of innovation, Polaris has built a durable and versatile family of commercial utility and passenger vehicles. With RANGER, PRO XD, GEM and Taylor-Dunn, Polaris has the largest offering of work vehicle solutions, according to the company, and each is fully customizable and built to meet working needs.
About the Author: Grace Suizo has been covering the automotive fleet industry since 2007. She spent six years as an editor for five fleet publications and has written more than 100 articles geared toward both commercial and public sector fleets.