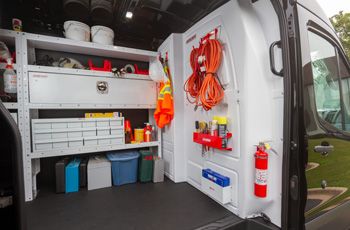 WEATHER GUARD CabMax Composite Bulkhead
WEATHER GUARD, an industry leader in truck and van equipment, has announced its new CabMax Composite Bulkhead. Designed to enhance drivers' comfort and workspace, the single-piece design is strong yet weighs just 55 pounds. The CabMax Composite Bulkhead provides enhanced driver comfort, noise reduction, climate control and customization options.
In commercial vans, bulkheads are crucial to the safety of the user and the functionality of the vehicle. The bulkhead separates the driver from the cargo area, providing protection from shifting loads. In the past, van bulkheads have not been a great platform for mounting van storage components or other accessories, but the new CabMax Composite Bulkhead has transformed it into a usable part of van equipment. The new CabMax Composite Bulkhead has accessory panels that can be placed in 14 different attachment points. The accessory panels are designed to accompany WEATHER GUARD REDZONE accessories but also offer standard threaded inserts to use off-the-shelf attachments.
In addition to the CabMax Composite Bulkhead providing more space for accessories, tools and personal items, it also provides more room for the driver. Because commercial drivers spend a significant amount of their day in their van's cab, comfort was especially important when designing the WEATHER GUARD CabMax Composite Bulkhead. The new bump-out design allows the driver's seat to recline up to 35 degrees, the largest driver seat range of motion in the industry. www.weatherguard.com
---
Kate Wade
Kate Wade has not set their biography yet
---