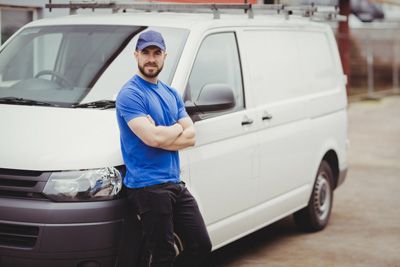 Upfitting Utility Service Vans with Maximum Safety in Mind
Upfitting Utility Service Vans with Maximum Safety in Mind
One of the most common mistakes fleet managers make when upfitting service vans is not leveraging their operators' input on what works well – and what doesn't – with the vehicles, according to Mark Stumne, director of truck services for Element Fleet Management (www.elementfleet.com).
So, what better way to gain a clearer understanding of their safety needs than to watch them in action? That's how Adrian Steel (www.adriansteel.com) – which offers cargo management solutions for commercial vehicles – kicks things off, according to Adam Gregory, the company's sales engineering manager.
"Our process is to first engage the technician and watch him or her do the job," he said. "Ask them how to make it better. They are experts in how and what they do, and it is important that [fleet managers] take the time to understand how it connects to the bigger picture."
During the observation process, Gregory continued, "We take notice of all above-the-shoulder reaches and back strains, as well as the number of times the technician gets in and out of the vehicle. Anytime a technician is carrying a product unsafely, we consider this an opportunity to make their job safer."
The upfitter then takes initiative by making recommendations for improvement – specifically, how the technician can carry that particular product safely and securely going forward. These opportunities for improvement are usually discussed at the beginning of the solution concept presentation.
Ladder racks are among the items to be especially cautious with. "Extension ladders weigh about 75 pounds, so safely loading and unloading the ladder on the ladder rack is a top priority," said Katie Groves, national fleet sales manager for Adrian Steel.
Safe solutions should also be prioritized for HVAC work that may involve technicians carrying hazardous gases on their vehicles.
Stumne suggested providing operators with a load study to educate them on payload and guide them to safe loading and limitations of the asset.
For utility service vans, he said that typically, a bulkhead is added to most cargo van upfits to protect the driver from objects flying forward in the case of hard braking or an accident.
Set Realistic Time Frames
Lead times for assets to arrive are not static and will change depending on the type of asset, upfitting and transportation, Stumne said.
And according to Groves, the complexity of the upfit and job determines the amount of time needed to develop the right solution. "Discovery to concept to design to upfit installation could take anywhere from six months to two years. If it's a 'from the ground up' design, this might take site visits and technician interviews to first see and understand what is happening in the field. Less complex or updating/adding features can often be done in less time," she explained.
Uphold Quality Standards
Don't skimp on quality when it comes to upfitting your service vans and other utility fleet vehicles. Make sure you are using certified professionals and adhering to industry guidelines for maximum safety.
Upfitters must always be aware of federal motor vehicle safety standards and guidelines from the National Highway Traffic Safety Administration.
To ensure correct installation, Stumne recommended utilizing upfitters who are certified installers of the components being used.
In addition, if the vehicle is an OEM incomplete vehicle (i.e., it has an incomplete vehicle document, or IVD), the upfitter must certify that the completed vehicle meets all federal motor vehicle safety standards and emission regulations, he said.
Groves said that Adrian Steel has gone through Rapid Entire Body Assessment training to better identify safety issues when on the job site with technicians. The assessment evaluates the risk of musculoskeletal disorders associated with specific job tasks.
"This also helps us in the design phase of the process to ensure our installers are safe while installing the upfit," she noted.
Stay Up to Date
Safety starts with the vehicle and upfit specifications that will provide a safe and productive asset for the role in which it will be used, Stumne said.
And with vehicle and upfitting packages evolving year over year, replacing an asset that has been in operation for many years requires a careful review of the specifications.
"Replacement strategy is key to getting the most of the technology improvements that are available from the vehicle and component manufacturers. The older the asset being replaced, the greater the opportunity," Stumne advised.
About the Author: Grace Suizo has been covering the automotive fleet industry since 2007. She spent six years as an editor for five fleet publications and has written more than 100 articles geared toward both commercial and public sector fleets.