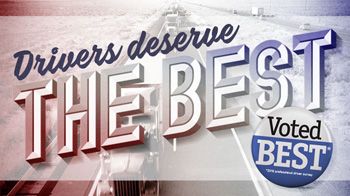 TravelCenters of America Dominates Driver Satisfaction Survey
TravelCenters of America LLC (TravelCenters) – operator of TA, TA Express and Petro Stopping Centers travel center brands – recently announced the results of the 12th annual "Voted Best" survey. The survey was commissioned by TravelCenters and conducted by an independent agency in October 2018 to garner professional driver feedback on truck stop services and amenities.
Individuals surveyed rated their preference for TA and Petro versus the next closest truck stop brand. In the Overall Area, driver preference for TA and Petro was 6 to 1 for best truck stop experience and 7 to 1 for most comprehensive driver services. In the Employees Area, TA and Petro had the best employees 2 to 1 over the next closest truck stop brand; the best employee understanding of drivers 3 to 1; the friendliest maintenance and repair write-up staff 3 to 1; and the maintenance and repair staff most trusted to perform the job right 6 to 1. In the Fuel Area, driver preference was 2 to 1 for the quickest fueling time, and drivers said TA and Petro had the largest parking lots (6 to 1) that also were the easiest to maneuver (5 to 1).
When it came to the Truck Repair & Maintenance Area, TA and Petro achieved high scores in categories including Most Complete Services (7 to 1), Most Competent Technicians (5 to 1), Most ASE Certified Technicians (8 to 1) and Best Roadside Assistance (4 to 1).
Other categories that drivers were surveyed about included Showers & Restrooms, Restaurants, Driver Comforts and Community Outreach. www.ta-petro.com
---
Kate Wade
Kate Wade has not set their biography yet
---