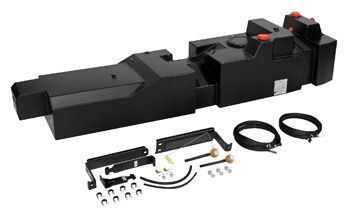 Transfer Flow Replacement Fuel Tank System
Transfer Flow has introduced a 50-gallon high-capacity midship replacement tank for 2018-19 Ford F-150 Power Stroke diesel crew cab short-bed trucks.
The 50-gallon replacement tank is perfect for F-150 Power Stroke owners who want to maximize their fuel capacity and driving range without sacrificing truck bed space. It is crafted from ReliaSteel 12-gauge U.S. high-yield aluminized steel and includes internal baffles for strength and reduced fuel slosh. Installation is easy: Drop the plastic stock fuel tank, replace it with the larger steel fuel tank in the same location, fill up and hit the open road. Transfer Flow has more than 300 qualified installers throughout the U.S. and Canada who are ready to install your new tank.
All Transfer Flow fuel tank systems ship complete with every component needed for installation and are covered by a six-year, unlimited mileage warranty. The F-150 diesel replacement tank is powder-coated for a durable black finish, with the optional upgrade to add a spray-on textured coat for extra durability. www.transferflow.com
---
Kate Wade
Kate Wade has not set their biography yet
---