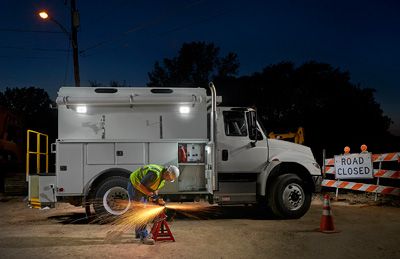 Tips for Spec'ing Truck-Mounted Compressors
Utility fleets use truck-mounted compressors to power air tools that break pavement, pressurize gas or water mains, blow in fiber optic cable and perform numerous other jobs depending on the type of utility.
And these compressors are available in a wide range of configurations that directly impact your initial cost, ongoing maintenance expenses, the truck's payload capacity and cargo area, and worker productivity.
So, how do you filter through all the options to select the optimal compressor for the job? Use these "3 P's" as a guide.
1. Purpose
Begin with the end in mind. What exactly are the jobs you will need an onboard compressor to perform? What air tools will you be attaching to the system to do that work? And will you ever need that system to power multiple tools simultaneously?
Also consider the environmental conditions the compressor will be operating in, said Ralph Kokot, chief executive officer at Vanair Manufacturing (https://vanair.com), a mobile power system provider based in Michigan City, Ind. "Is the truck going up to the Alaska North Slope? Then you'd want to have a cold-weather kit on [the compressor] versus if the system is being operated in South Florida."
2. Power
Once you know the compressor's purpose, you're able to address the next question: How much power, in terms of standard cubic feet per minute (SCFM), will you need to operate your air tools with optimal efficiency?
This is an important question because a common mistake fleet managers make is to spec much more power than they'll ever need because "that's the way we've always done it," said Chris Lamb, national accounts manager for VMAC (www.vmacair.com), a British Columbia, Canada-based manufacturer of air compressors and multipower systems.
As a result, Lamb said, those fleets pay more upfront than they need to. And they also often pay more for ongoing maintenance, particularly when they spec a larger abovedeck compressor – also called a utility-mount or cross-body air compressor – mounted on top of the truck body, that's powered by a separate gas or diesel motor and not by the truck's engine.
But selecting an underpowered compressor also can be costly for fleets by negatively impacting worker productivity.
So, how do you strike the right balance when determining the best SCFM for your application?
A good starting point is to consult an air consumption guide for the air tools your crews operate. As an example, see Vanair's "Air Tool Consumption Guide" at https://vanair.com/support/air-tool-consumption-guide.html.
Dale Collins, fleet supervisor with Fairfax Water, also offered this rule of thumb: "I spec the compressor according to the highest SCFM tool that is going to be used. Most times, a rock drill consumes the highest amount, around 115 SCFM at 100 psi. Then we add 30 percent for surge to develop the rating of the minimum required compressor. And when you add 30 percent to 115 SCFM, that's a total of 149.5 SCFM minimum. So, in this case, a 150 SCFM compressor will work just fine for running one tool at a time."
3. Placement
Your power requirements will dictate your options available in terms of the type and placement of the compressor – whether it's an underhood, underdeck or abovedeck system.
What's the difference? Here's the breakdown.
Underhood
Mounted inside the engine compartment, this compressor is powered by the truck's engine and typically spec'd for light- to medium-duty compressor applications. Lamb with VMAC said that underhood systems can provide as much as 150 CFM or "power up to two 90-pound pavement breakers," depending on the class, make and model of the vehicle.
Underdeck
This compressor is mounted within the vehicle's frame rails – underneath the truck's deck (or body) – and connected to the vehicle's power-take-off system. Kokot with Vanair said that underdeck compressors usually fit applications that require between 125 and 200 CFM, "and that's really where the center of the [compressor] market is right now."
Abovedeck
Powered by a separate gas or diesel motor, this compressor is mounted on the truck's body. Unlike underhood or underdeck systems that must fit within tighter areas, abovedeck compressors can be larger to offer more power for heavier-duty jobs.
But make sure your application absolutely requires the size and power of an abovedeck configuration before spec'ing that type of system, Kokot said. That's because abovedeck compressors cost more money upfront, take up valuable cargo space on the body, are heavier than other options and require having to maintain a second motor on the truck.
The Bottom Line
So, what size and type compressor best fits your application?
"The answer really depends upon the air consumption requirements of the tools that you're using," Kokot said. "And that dictates the direction you'll consider to determine whether you should choose an underhood versus an underdeck versus an abovedeck system."
---
Sean M. Lyden
Sean M. Lyden has not set their biography yet
---