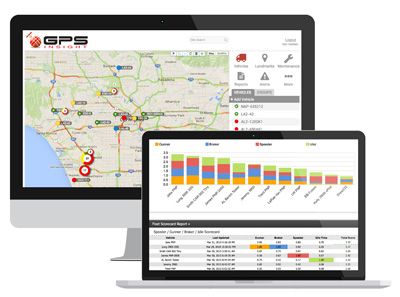 The State of the Fleet Telematics Market
A lot has happened in the fleet telematics market the past year that could impact utility fleet operations. Major telecom firms have expanded their footprint in the fleet sector with Verizon's acquisitions of Telogis and Fleetmatics, while AT&T has established key partnerships to provide branded telematics services such as AT&T Fleet Complete and AT&T Fleet Manager. And more and more telematics providers have inked deals with automakers in recent months.
So, what's driving these trends? And how might they shape the future of telematics and connected fleets?
UFP spoke with experts from C.J. Driscoll & Associates, GPS Insight, Telogis and Element Fleet Management to get their market outlook.
Telecom Expansion
Why are major telecom firms expanding into the fleet telematics industry? Will this trend continue?
"With landline subscriber bases shrinking and the mobile phone market saturated with declining marginal value, the connected vehicle offers a new market opportunity that allows the telecom companies to capitalize on the need for the vehicle to communicate to the OEM, driver, surrounding infrastructure and other third-party services through cellular networks," said Kimberly Clark, telematics product leader for Element Fleet Management (www.elementfleet.com). "It also allows them to expand and sell additional products, including in-car applications and infotainment solutions, as this technology becomes mainstream within new vehicles."
Clark said that telecom expansion into the fleet market will continue for the foreseeable future and "benefit utility fleets through new innovation possibilities, increased pressure on direct OEM connectivity solutions and lower communication costs as part of their service offering over time."
Ryan Driscoll, marketing director for GPS Insight (www.gpsinsight.com), agreed that more telecom companies will enter the fleet market but said that existing large, privately held telematics firms will remain strong.
"Verizon has invested a ton in telematics, and I believe that AT&T, Sprint and T-Mobile are watching to see how successful it is before getting more aggressive and following suit," Driscoll said. "I believe it is only a matter of time before all the major telecoms are in the telematics space. Although they are large brands, telematics isn't a primary focus for them, nor a specialty, so they will certainly still be going up against the larger privately held telematics companies that specialize in fleet management."
Kelly Frey, vice president of product marketing for Telogis (www.telogis.com), which is part of Verizon Telematics (www.verizontelematics.com), said that Verizon's foray into fleet telematics, which started in 2012 with its acquisition of Hughes Telematics, is part of a larger strategy to become an industry leader in the broader internet of things (IoT) category.
"Connected vehicles and assets empowered by telematics are very good examples of 'things' that pertain to the internet of things," Frey said. "These things inherently need to be connected to a reliable and secure network that supports the mission-critical operations powered by IoT and telematics. There are approximately 1.2 billion vehicles on the planet – including about 330 million commercial vehicles – that could benefit from being connected to the internet to improve maintenance and performance and enrich the lives of the drivers with improved safety and reliability. And telecom providers, like Verizon, are focused on making this connectivity easier and more enriching with compelling solutions that drive business value as well as consumer value. The trend will absolutely continue on a global scale."
Partnerships with Automakers
In recent months a growing number of telematics providers have announced partnerships with vehicle OEMs. Does this mean that OEM partnerships will be necessary for telematics providers to continue to grow by the end of this decade? Or is there still room for telematics providers to prosper in the future without OEM partnerships?
"It's necessary for telematics providers to partner with OEMs to survive and thrive if the telematics providers and OEMs are interested in maximizing the end fleet customer value," Frey said. "Manufacturers such as Hino Motors already provide built-in telematics that provide advanced engine diagnostics and maintenance alerts along with a fleet management portal and mobile app. Several other manufacturers – such as Ford, GM, Volvo, Mack and Isuzu – offer built-in telematics already and there will be more in the very near future. Telematics providers such as Telogis will continue to invest heavily in OEM partnerships by offering broader platform capabilities such as route and schedule optimization, commercial navigation and mobile applications that are tightly integrated with back-office capabilities, workflow optimization and automation."
Clem Driscoll, founder and principal of C.J. Driscoll & Associates (www.cjdriscoll.com), a market research firm that covers the telematics industry, said that although automaker partnerships offer telematics providers an efficient sales channel to expand their customer base, those relationships don't appear to be a requirement to succeed in the fleet telematics space.
"There are companies like Geotab, which has 400,000 to 500,000 units in service or more and isn't the primary telematics partner of vehicle OEMs in the U.S. but is growing at a fast rate," he said. "And GPS Insight is another example. They've done very well and don't have, to my knowledge, any OEM relationships but haven't needed them in order to prosper."
But as more and more OEMs adopt telematics, what role will there be for third-party telematics providers?
Since automakers don't have expertise in fleet management, that's where third-party telematics firms will continue to bring value, according to Clem Driscoll. "So far, especially if you look at the heavy-truck manufacturers, they haven't gone much beyond offering remote vehicle diagnostics-related services," he said. "That's because it's difficult for the vehicle OEMs to say, 'Well, we're going to offer a complete fleet solution.' Since most fleets are not homogeneous, with vehicles from different manufacturers, [fleets] will probably hesitate to adopt a single telematics solution from the vehicle manufacturers."
Clark with Element Fleet Management agreed. "OEM-embedded solutions do not solve all of the needs for [fleet] customers such as driver identification, satellite access in remote areas, panic buttons and electronic hours-of-service monitoring, as just a few examples. And there are questions on how much paperwork will be involved in the future to connect a car, as some may require driver consent. And OEMs will likely not provide a web-based platform for a fleet user to get easy access to the data, so they need both telematics companies and fleet management firms to provide this accessibility to the data for fleet customers into the future."
The Future of Telematics
So, what does the future look like for the fleet telematics industry? What new telematics capabilities and/or use cases will emerge in the next three to five years that could impact how utility fleet professionals run their fleets?
"Over the next few years we will start to see more developments around IoT connections leveraging in-vehicle Wi-Fi hotspot capabilities," said Frey with Telogis. "We will see a lot of advancements with [advanced driver assistance systems] to assist the driver with safety and performance related to efficiency and fuel economy. And there will be significant movement towards vehicle-to-vehicle and vehicle-to-infrastructure communication, and ultimately autonomous vehicle capabilities built into vehicles that telematics providers will leverage to continue to improve efficiency, safety and productivity."
According to Ryan Driscoll with GPS Insight: "Fleet management will continue to become more decentralized, which means that mobile apps will become more and more critical for fleet management, ultimately being the primary tool used. And there will be more integration with back-end systems so that fleet management and drivers can be much more efficient overall and deliver more value to their customers than they have in the past."
Clark with Element Fleet Management predicted the following: "Telematics systems will allow for opportunities for utility network providers to put together truck-sharing networks of vehicles made possible through use of real-time visibility and new mobile applications. This could enhance customer service by allowing utility customers experiencing an issue or outage to get visibility to real-time truck deployment activity. There will also be better sensors for tracking real-time bucket usage status through OEM and aftermarket supplier solutions. And analytics will be drastically enhanced to provide opportunities for predictive analytics in storm-surge planning using weather and historical pattern activities, and improved prescriptive maintenance diagnostics tools to reduce downtime."
The Bottom Line
The fleet telematics landscape appears to be shifting, as telecom giants expand into the market, more automakers seek to grow their telematics offerings, and emerging connected-car technologies unleash new capabilities that could boost fleet productivity, improve worker safety and cut costs. Stay tuned.
---
Sean M. Lyden
Sean M. Lyden has not set their biography yet
---