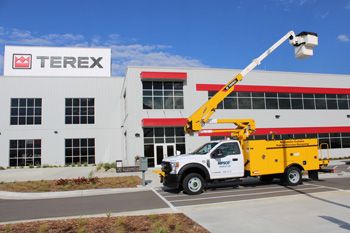 Terex Utilities Opens New Manufacturing Facility
Terex Utilities announced that its new manufacturing headquarters is now fully functional, and the first production units have rolled off the line. The 450,000-square-foot facility brings production operations under one roof on a 55-acre site in Watertown, South Dakota.
The new facility houses assembly, fiberglass, paint and installation. Among the first machines to roll off the line were a C6060 digger derrick for Otter Tail Power Co. in Minnesota, an HR46 aerial device for Xcel Energy in Minnesota, an LT40 aerial device for NiSource in Indiana and a General 65 digger derrick for Brazos Electric Cooperative in Texas.
Terex Utilities hopes to celebrate the opening of its modern manufacturing facility with customers once the coronavirus is controlled. Until then, this video shows a time lapse of the new facility construction. www.terex.com/utilities
---
Kate Wade
Kate Wade has not set their biography yet
---