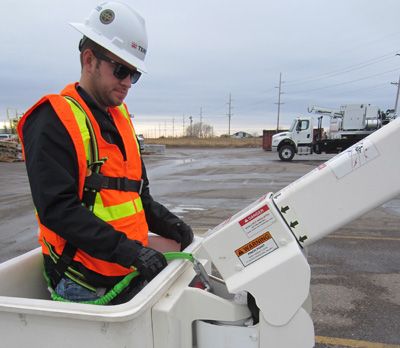 Technologies to Improve Aerial Safety
Operating aerial equipment can pose risks if care is not taken to identify and mitigate hazards. UFP recently spoke with industry professionals to learn more about technologies currently available to enhance safety during aerial equipment use.
Reduce Operator Falls
It was customer feedback that contributed to Terex Utilities (www.terex.com/utilities) developing the Positive Attachment Lanyard (PAL) device, which serves as an added reminder to users to properly utilize fall protection. The warning system is designed as an operator aid to reduce the chance of an operator elevating the bucket without a safety harness lanyard attached.
"Most of the time when a worker fails to attach the lanyard, it's an honest mistake," said Joe Caywood, director of marketing for Terex Utilities. "The worker was concentrating on the job and just forgot. We hope that linemen will consider the PAL device as a friendly reminder in the platform. It's there to promote their following of safe work practices."
The PAL alerts the operator with visual and audible warnings if their lanyard is not attached to the anchor point when the aerial device is operated. Similar to seat-belt devices found in most modern vehicles, the PAL is an integrated feature that provides warnings but does not prevent the aerial device from moving.
Cass County Electric Cooperative in North Dakota piloted the PAL system in 2018. Most of their aerial devices are under 50-foot platform heights and frequently used for servicing nearly 3,000 miles of overhead lines.
The cooperative has a policy of 100% tie-off on aerial devices. On the off chance that a worker forgets to clip into the harness, the PAL device provides alerts as a reminder. The cooperative's crew noted ease of use, no extra equipment required and the added reminder as some of the PAL's key highlights.
Terex selected Ring Power Utility Equipment (http://utility.ringpower.com) as its dealer partner.
"We elected to standardize all purchases of equipment available from Terex with this option. We wanted to ensure that customers could quickly have access to elevating the safety environment of their crews," said Mike Beauregard, vice president and general manager of the utility equipment division at Ring Power.
The PAL system currently is available as an option on LT40 and XT PRO aerial devices. It will be available on other aerial device models as they are developed.
Avoid Overload Incidents
Altec (www.altec.com) introduced its Load Monitoring System in mid-2017. The system serves as an operator aid in distribution construction and maintenance applications, where material-handling units are most frequently used. It helps operators understand the operating capacities of the platform and material-handling system and notifies them when they might be reaching those limits.
Additionally, the Load Monitoring System provides real-time visual and audible information about the percentage of rated load on the boom and/or platform. The combination of both visual and audible alarms to notify the operator of a potential overload adds an extra layer of awareness for increased safety.
On Altec aerial devices, visual and audible alerts are consistently located on the unit turntable and platform, reducing the need to relearn the system on separate models. As an added benefit, the Load Monitoring System is designed with internal components, which ultimately eliminates the risk of external damage.
In terms of other aerial device safety products, Dustin Yost, product marketing manager for Altec, said the company is in the process of implementing its lanyard detection and lanyard interlock systems. Last fall, the company introduced a collision mitigation system integration for custom front bumpers through a partnership with a leading supplier of truck safety systems.
Altec has a number of demo units equipped with the Load Monitoring System for customers to try out. In addition, the company has worked with several large utilities to provide pilot units of the other safety systems mentioned above, according to Yost.
About the Author: Grace Suizo has been covering the automotive fleet industry since 2007. She spent six years as an editor for five fleet publications and has written more than 100 articles geared toward both commercial and public sector fleets.
*****
Customizing Solutions
"Utilities and utility contractors are incredibly safety conscious," said Dustin Yost, product marketing manager for Altec. "There is a constant conversation with our customers on ways to improve equipment safety. Ingress/egress, equipment capacity, truck safety systems and telematics are some of the areas customers identify as opportunities to improve operator safety."
Terex Utilities has received similar requests. Safety departments often approach the company with a specific need. For example, Joe Caywood, the company's marketing director, said one utility wanted to reduce slips, trips and falls as operators climbed into the aerial device platform.
"They came to us with requests on specific installation features on their units that had to do with access. We worked with them to customize a rear access point and modified the step height and locations," Caywood explained.
Typical access to the cargo deck is from the side, between storage compartments. But the deck can become cluttered with materials, and equipment storage creates a tripping hazard. The customer wanted to work around that, so Terex Utilities designed stairs with a railing as a rear access point. This puts the operator closer to the bucket without having to walk across the cargo deck.
The company also lowered the boom stow position to reduce the step height from the deck into the platform by 15 inches. The customer further customized the equipment by requesting steps and handrails be painted high-visibility colors, such as yellow, and the edge of the steps be painted red.
"This rear-entry design has now been adopted by other utilities, co-ops and municipalities in the region," Caywood said.