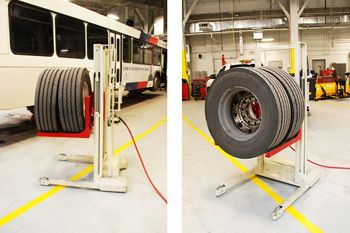 Stertil-Koni High-Lift Wheel Dolly
Confronted with growing requirements for added safety and performance in heavy-duty vehicle maintenance facilities, one relatively low-tech solution is emerging as a key player.
Meet the high-lift wheel dolly that, according to a recent review of best practices across North America conducted by heavy-duty vehicle lift leader Stertil-Koni, is enhancing ergonomics and versatility on the shop floor.
Here's how: The crane arm offers efficiency and stable ergonomics when lifting disc brakes, brake drums, fuel tanks, toolboxes, calipers and many other heavy parts.
Moreover, when it comes to lifting big wheels, the WDA-500 model is more than up to the challenge, with a capacity of 1,100 pounds. That comes in handy when a technician is removing large wheels that often can weigh up to 500 pounds each. The crane arm on the WDA-500, which is fitted with a 360-degree pivoting hook for greater range and flexibility, easily swivels aside to allow wheel removal operations to be completed without straining the technician.
The WDA-500 can accommodate wheel sizes from 10.63 to 51.18 inches. The dolly stands 47.17 inches high with a width of 45.28 inches and a length of 33.30 inches. Lifting height is 28.23 inches. It weighs 220 pounds. The high-lift wheel dolly also can be used with mobile column, platform and inground lifts. https://stertil-koni.com/vehicle-lifts/accessories-and-shop-equipment/shop-equipment/wheel-dollies
---
Kate Wade
Kate Wade has not set their biography yet
---