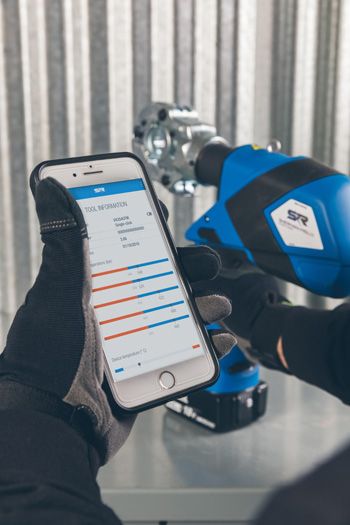 Sherman + Reilly Tool Monitoring Smartphone App
Emerson has announced the launch of the Sherman + Reilly i-press battery tool monitoring smartphone app.
The new i-press app allows crews to track their Next Generation Sherman + Reilly Battery Tools. Using the simple navigation display, workers can view the battery charge, last service date, last five pressure measurements, tool temperature and number of cycles completed with a connected tool. Users can create a project within the i-press app to save and combine crimping operation data and track tool performance. When the project is complete, an overview report is generated and sent as a PDF.
In addition to the new i-press app, Sherman + Reilly will continue to provide factory service solutions for battery-powered tools from their locations in Rockford, Illinois, and Chattanooga, Tennessee. Professional service experts provide preventive maintenance, comprehensive assessments and certified tool testing to quickly get tools back in safe working order.
The new i-press app can be downloaded for free from the App Store or Google Play. www.emerson.com
---
Kate Wade
Kate Wade has not set their biography yet
---