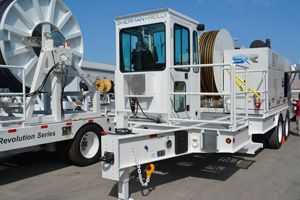 Sherman+Reilly Pintle-Eye Trailer Configuration
Sherman+Reilly Inc. has enhanced the towing ability of its Revolution Series transmission equipment product line with the addition of a pintle-eye trailer configuration for use with line trucks. The new platform of trailers provides reductions in overall weight and allows for a smaller field and storage footprint.
The new pintle-eye versions of the Revolution Series can be found on the T-7212-P Bullwheel Tensioner, PTR-7230S-P Split Model Puller/Tensioner/Reconductorer and RC-2500X-P Powered Reel Carrier.
The T-7212-P Bullwheel Tensioner is built with two pairs of 72-inch, five-groove bullwheels and delivers a maximum tensioning capacity of 12,000 pounds per subconductor or bullwheel pair. Each bullwheel has its own planetary gearbox and hydraulic motor with spring-applied hydraulic release brake.
The PTR-7230S-P Split Model Puller/Tensioner/Reconductorer, in a paired unit, delivers up to 30,000 pounds of pulling force and tensions up to 25,000 pounds. With a maximum speed of 4 mph, the Revolution Series PTR's 72-inch bullwheels provide constant tension and precision control, and are designed to handle transmission-class conductors.
The RC-2500X-P Powered Reel Carrier, when paired with the PTR-7230S-P, provides an 84-inch rope reel with an optional 25,000 feet of Unitrex synthetic rope. This reel carrier offers full hydraulic back tension to the bullwheels that helps keep the rope or conductor tight around them. www.sherman-reilly.com
---
Kate Wade
Kate Wade has not set their biography yet
---