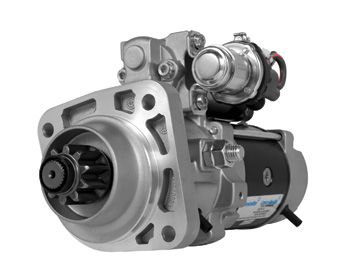 PowerPro Extreme 5 Starter Motor
Prestolite Electric is delivering industry-leading starting performance to the medium-duty market with the PowerPro Extreme 5, an all-new 12-volt, 4.5-kilowatt premium replacement starter from Leece-Neville Heavy Duty Systems. The latest addition to the PowerPro Extreme range offers high-torque, high-efficiency starting power for 6- to 10-liter engines used in construction, fire and rescue, pickup and delivery, refuse and school bus applications.
All PowerPro Extreme starter motors are engineered to provide consistent, reliable starting performance under the most demanding conditions. Featuring a planetary gear reduction design, the PowerPro Extreme 5 is available in both 10- and 12-tooth versions and provides a premium replacement alternative for a variety of popular engines, including Cummins ISB, ISC and ISL; International DT466E and DT570E; and MaxxForce DT, 9 and 10 models.
The PowerPro Extreme 5 is engineered to meet major OE specifications. It delivers exceptional performance and durability and features a variety of built-in technologies that improve service life, reduce maintenance costs and increase vehicle uptime. www.prestolite.com
---
Kate Wade
Kate Wade has not set their biography yet
---