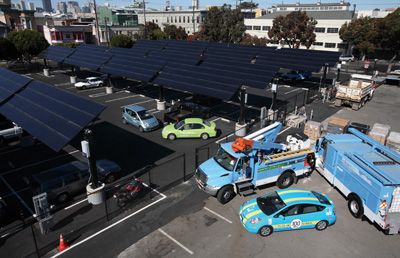 PG&E: Data-Driven Shop Operations
In his role as senior director of shared services: transportation for Pacific Gas & Electric Co. (PG&E), Michael Glover is responsible for everything from field operations and strategic planning to purchasing, telematics and information technology systems for the largest and most diverse utility fleet in the U.S.
The San Francisco-based utility provides natural gas and electricity to 5.2 million customers in an over 70,000-square-mile territory covering the northern two-thirds of California. Its operations are supported by more than 15,500 fleet assets, which are kept rolling by over 350 operational and maintenance employees working out of 63 locations. The asset count includes 10,000 Class 1 through Class 8 over-the-road trucks as well as construction and off-road equipment.
Business Intelligence
Running such a large and varied fleet safely and cost-effectively requires smartly leveraging the data captured, day in and day out, from PG&E's array of asset management and telematics systems. That information is then transformed into actionable insights through the utility's business intelligence (BI) platforms.
"For roughly the past 10 years," Glover said, "most major fleets have utilized fleet management systems" to process data for improving maintenance and fuel economy, lowering operating costs and complying with regulations.
"That's been the case until the last two years or so with the advent of business intelligence as well as visualization tools," he continued. "The idea is to deploy these tools system-wide to make better decisions. For example, with BI, we're able to leverage vehicle information across all our truck orders."
Glover explained that the fleet started to move information out to the field with a "monthly reporting cadence." He said that "now we can visualize it and move from a monthly to a daily view for managers, and a lot of traditional and nontraditional users are comfortable accessing the BI platform."
PG&E's fleet BI platform is running smoothly and increasing efficiencies daily, but it was developed over several years by layering on new electronic capabilities as they became available.
In addition to tapping fleet management systems for data to process, telematics comes into play. Along with helping improve operator and public safety, such as by reporting unsafe driving and delivering in-cab driver coaching, onboard telematics enables tracking vehicles to reduce the time it takes to locate them for periodic preventive maintenance inspections. Telematics also speeds servicing by allowing mechanics to retrieve diagnostic trouble codes before heading out on a road call.
On the Fly
"Four or five years ago," Glover said, "you could create an Excel spreadsheet for visualizing data, but large suppliers could offer services to convert that data to be more useful. Now, a major software provider has made it easier for us to do this in-house.
"That means we can work internally to make changes on the fly," he continued. "Where Excel is static, a BI platform is proactive and flexible and a faster way to leverage data. These platforms are connected to the fleet's data flow and allow updating daily. And they connect to the database with far less coding."
Glover pointed out that "fleet information system providers are now integrating into BI platforms, but with less flexibility than having it built to our specs. Here, we've approached it with a data scientist on staff who's an expert on processing information."
He said the fleet "unlocked the secret sauce in an 'aha moment' when we could see that pairing a data scientist with senior and operational managers would lead to capturing and translating the data that they needed to see and act on."
The upshot is that managers throughout the fleet operation are gaining sharper insights to monitor operational efficiencies in real time as well as greater visibility into the cost and time allocation for preventive maintenance, unscheduled repairs, road calls and so forth.
At Your Fingertips
Of course, having "information at your fingertips goes both ways," Glover pointed out. "On the one hand, it can be a challenge to get a vehicle in for a preventive maintenance inspection, especially as we want to pinpoint that before it becomes a compliance issue. On the other, with a BI platform, I can report up to PG&E's leadership on the level of our PM compliance."
Turning to specific metrics, Glover said the key performance indicators that PG&E keeps tabs on via its BI platforms include (1) mechanic productivity ("the hours actually wrenching") and (2) ensuring repair and preventive maintenance quality and compliance, including adhering to regulated compliance requirements.
He also advised that visibility into compliance must take into account that "we are working with in excess of 30 different vehicle maintenance plans as well as that all our mechanics are journey-level, but with different sets of specific skills." With those variables in mind, Glover said the idea is to track over time the average performance in hours. "Then we can see if added training or tools are needed to shorten the time spent. Or, on the other hand, might the mechanic be doing maintenance faster than they should?"
Glover suggested that any utility fleet that moves to leveraging BI systems should start out by "going on a listening tour and talking to those who use the equipment and those who repair it. For example, you might pull a number on asset availability that may feel good yet not reflect daily operational realities. With better data, you can report out numbers that reflect the actual situation."
About the Author: David Cullen is an award-winning journalist who specializes in covering the trucking industry. Based in Connecticut, he writes for several business publications.