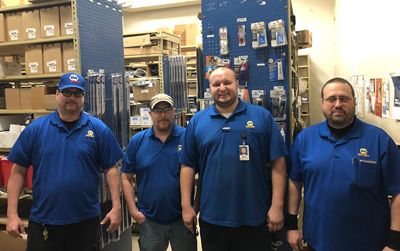 Operating a More Efficient Parts Management Program
Making sure your shop is well-stocked to handle any issues that come your fleet's way is a smart plan, but it also can be costly and inefficient if you overdo it and end up with bloated inventory. UFP recently spoke with two fleet professionals who shared some best practices about how to operate a more balanced and efficient parts management program.
The best starting point is to monitor what moves and then find a sensible minimum, according to Dale Collins, fleet services supervisor for Fairfax Water in Virginia.
"Maintain an inventory of items that move quickly and be sure that your suppliers are able to provide quick sourcing of less frequently used items," he advised, noting that mission-critical parts are important to have in-house.
For Fairfax Water, consumables – including fluids, filters, brakes and tires – are the most important. The majority of other items can be sourced quickly, Collins explained.
The utility, which operates nearly 500 vehicles and other assets, assigns parts to the following three major groups:
Fast-moving: This group includes filters, brake pads, lubricants and basic consumables.
Repair and mission-critical: This group includes air brake hose and fittings, hydraulic hose and fittings, truck tarp parts, bulbs and body lights, and heavy-truck and equipment tires mounted and ready to go.
Point of need: This group includes a minimal number of parts that the fleet keeps on hand that also can be quickly sourced from vendors, such as heavy-truck brake parts.
Preventive maintenance parts – the least expensive items, fortunately – are replenished the most frequently, usually as a weekly stock order or once the number of parts reaches the minimum order point. Fairfax Water obtains most of its preventive maintenance parts from local NAPA stores with contract pricing. Many of its repair parts are sourced from OEM dealers.
Lessons Learned
In the past, Fairfax Water would buy slow-moving parts and materials in large quantities, resulting in obsolete inventory that included filters, belts and tires that no longer fit vehicles in the fleet. Now, they source mission-critical items as needed but stock up during winter for emergencies.
Keeping only fast-turn and mission-critical parts on hand helps to free up shop space and ensures funds are not tied up in inventory.
"Stay on top of inventory; it's easy to end up with obsolete parts," Collins said.
Paul Jefferson, fleet manager for Oklahoma Gas & Electric, keeps track of parts inventory using spreadsheets.
He suggested using a central warehouse for low-turnover parts. OG&E's fleet maintains a bill of materials for fast-moving parts on each vehicle.
According to Jefferson, the most important parts utility fleets should keep in stock are those with a long lead time. He suggested having garage supervisory personnel collaborate with the parts department on those long-lead-time parts.
"That's the only way we can control the supply chain to reduce downtime of our equipment," Jefferson said.
OG&E has 1,984 units in its fleet and operates one primary garage with a staffed parts department as well as nine district garages with unmanned parts rooms. Between the 10 garages, the utility houses approximately 14,000 parts in stock on-site.
The parts department is run by four full-time staff. The technicians look at the turn rates of parts to determine stock, monitoring 90-day usage.
The parts most often used are batteries, filters, wiper blades and decals. These typically get replenished twice a week, according to Jefferson. OG&E purchases most parts from NAPA, plus tires from Goodyear and glass work through Safelite.
About the Author: Grace Suizo has been covering the automotive fleet industry since 2007. She spent six years as an editor for five fleet publications and has written more than 100 articles geared toward both commercial and public sector fleets.
*****
3 Mistakes to Avoid
Paul Jefferson, fleet manager for Oklahoma Gas & Electric, said the utility has had a NAPA Integrated Business Solutions parts department on-site since 1995. He shared three mistakes to avoid when running an efficient parts program.
Mistake 1: Overstocking. You don't want to be stuck with lots of parts when a manufacturer revises or upgrades a part.
Mistake 2: Not returning parts quickly. One of the mistakes Jefferson has experienced is not returning parts quickly and keeping obsolete parts, resulting in unnecessary spending and inventory.
Mistake 3: Not keeping up with demand. If point-of-need sourced items start trending upward, consider stocking a small quantity in case demand rises and local vendors have trouble keeping up with the demand.
"Remember, if you see a trend, other organizations have, too," Jefferson said. "Demand will increase, so keep an eye on trends to stay out front."