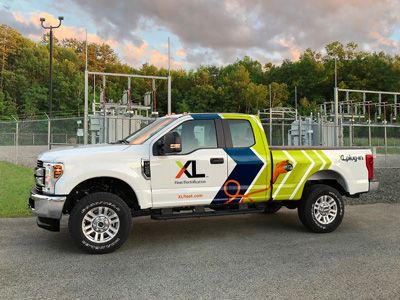 New Truck and Van Upfits for Utility Fleets in 2019
As you review the current specs for your truck and van fleet, where are your best opportunities for improvement? Could you decrease the size of your fleet vehicles while improving functionality and usability? Could you upgrade your service bodies for enhanced fuel efficiency and more eco-friendly operations? Or, could you add more versatile service tool storage options to boost accessibility and safety for your crews?
Here are eight new developments from truck and van equipment manufacturers that could help you find and maximize opportunities to strengthen your fleet specs and performance.
XL
What's New: PHEV System for Ford F-250 Pickup
URL: www.xlfleet.com
XL has introduced a new plug-in hybrid electric vehicle (PHEV) system for the Ford F-250 pickup truck. This product expands the company's PHEV line that also includes the PHEV Ford F-150, which the company began shipping in 2018 to utilities such as CPS Energy, Tacoma Public Utilities and City of Palo Alto.
The PHEV F-250 includes a driveshaft-mounted electric motor powered by a lithium-ion battery pack that can be charged using standard Level 2 and Level 1 plugs. The system also features regenerative braking, enabling the vehicle to store energy while stopping and transfer that energy back into the drivetrain to assist the vehicle during acceleration.
The PHEV system works in parallel with the factory gas-powered engine, eliminating the need for fleets to be concerned about vehicle range or charging infrastructure availability. All Ford factory warranties remain intact.
Altec
What's New: CB5 Fiberglass Crane Body
URL: www.altec.com
The CB5 is Altec's new fiberglass crane body capable of supporting a 36,000-foot-pound service crane with a maximum lift capacity of 6,000 pounds. The crane body also features Altec's newly manufactured aluminum mechanics drawers with single-hand operation. Realizing that an increasing number of utility fleets have to do more with less, the Altec team developed this product with lighter-weight fiberglass construction to allow for higher crane capacity on medium-duty trucks ranging from 19,500-23,500 pounds GVWR.
BrandFX
What's New: UltimateFX Service Body
URL: http://brandfxbody.com
BrandFX has introduced the new UltimateFX, an all-composite service body matched with an all-composite understructure. The combined weight of the UltimateFX body and understructure is 60 percent lighter than comparable steel bodies without sacrificing strength.
UltimateFX is available for 56-inch cab-to-axle (CA) single-rear-wheel and 60-inch CA dual-rear-wheel truck chassis. And for fleets that operate natural gas or electric-powered trucks, the lighter weight of the UltimateFX can offset some of the additional weight associated with those power systems.
Dejana
What's New: DuraRac Meter Service Shelving Package
URL: https://dejana.com
Dejana engineers worked closely with utility customers – including line technicians, management and safety personnel – to create a new Meter Service package using the company's proprietary DuraRac shelving system.
The sliding drawer system reduces the risk of slip-and-fall incidents by allowing technicians to access electric meters, tool bags, parts and other gear from outside the van. With adjustable shelving, technicians can change shelf height to accommodate different types of cargo. The ability to store ladders inside the van's cargo area helps improve ergonomics and worker safety.
Ranger Design
What's New: Custom Cargo Management System for Ford Transit Vans
URL: https://rangerdesign.com
For utility fleets that operate in urban environments, Ranger Design recently announced its custom cargo management offerings for Ford Transit Vans. The new systems enable fleets to downsize from larger vehicles, like box trucks, to Transit cargo vans to improve vehicle maneuverability and worker safety without sacrificing the storage capacity required for the job.
The system also can be spec'd with a shelf installed across the side door and holders for small loose parts built into the back doors to make it easier for technicians to reach tools, parts and components without having to enter the van.
To keep long pipes from rolling around in the cargo area, there is an available extended pipe-holder cabinet that can be installed under the shelves, taking advantage of an infrequently used area of the van.
Maintainer Corp.
What's New: 30-Foot Service Crane
URL: www.maintainer.com
Maintainer Corporation of Iowa Inc. has introduced a new 30-foot hydraulic crane: the H10030 telescopic crane, with a maximum lift capacity of 10,000 pounds. The new crane features a 60,000-foot-pound crane rating and a boom-mounted planetary winch.
The company said that the H10030 helps fill in the gap for fleets that need a longer reach than Maintainer's 25-foot cranes but don't need something as big as the H10034 – the 34-foot model.
The H10030 also features a low-profile boom, a total operating range of 91 degrees (-13 degrees to +78 degrees) and a wireless remote with independently proportional controls.
Custom Truck One Source/Load King
What's New: Voyager Series Mechanics Bodies
URL: www.customtruck.com, www.loadkingtrailers.com
Load King LLC, a wholly owned subsidiary of Custom Truck One Source, has announced the launch of its Voyager Series mechanics bodies with three new models: the Voyager I mechanics body, an under-CDL model; the Voyager II mechanics body; and the Voyager P propane service body, built for propane marketers.
The Voyager I and II both feature a modular control system with a push-button control panel, an LCD diagnostic monitor, CTECH drawer sets, a custom-designed cab guard and corrosion protection through Load King's full lining coverage. The Voyager P propane service body features a tri-axis sensor to stay level with ease and a Rumber bed floor for no-slip bed access, with a removable pipe vise attachment and aluminum side rails.
Venco Venturo Industries
What's New: 7,800-Pound HT45KX Hydraulic Service Crane
URL: https://venturo.com
Venco Venturo Industries has introduced the new Venturo HT45KX full-hydraulic service crane, offering a maximum lifting capacity of 7,800 pounds and 25-foot boom reach.
The HT45KX provides boom articulation of -8 degrees to +75 degrees and features the new Venturo EZ Stow load block safety stow with a quick-release hook under the boom. This gives the operator a safe way of releasing the load block from being stowed when the crane is raised to 60 degrees, allowing the hook to safely fall away from the crane without the operator having to remove it manually.
The HT45KX also offers Venturo's all-new proprietary VLCTM crane control management system, featuring a new wireless-remote, pistol-grip controller with safety alerts, including handle vibrations and LCD screen alert and status text.
---
Sean M. Lyden
Sean M. Lyden has not set their biography yet
---