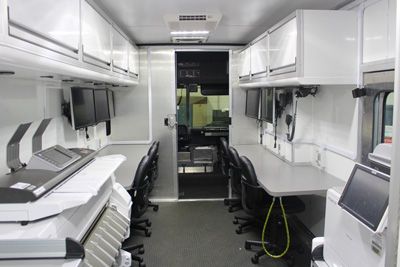 Mobile Command Centers Accelerate Emergency Response for Consumers Energy
Utility companies can't control Mother Nature. When an ice storm, high winds, torrential rain or any major weather event knocks out power for hundreds of thousands or even millions of customers, a lot is at stake to get power back online fast – from the health and safety of residents to the economic impact of lost power and revenues on local businesses.
However, utilities can control how they prepare for and respond to Mother Nature's wrath. And that's precisely what Consumers Energy, the largest electric and gas utility in Michigan, has sought to do with its recent purchase of two 30-foot mobile command centers: provide better coordination between utility management, crews and first responders in the field, so they can restore power as quickly and safely as possible.
Each of the vehicles is built on a 2016 Ford F-59 stripped chassis with a Utilimaster step-van body, and the cargo area is furnished with workstations and state-of-the-art communications systems.
But what exactly is a mobile command center? What are its advantages for utility companies? UFP spoke with Aaron Kantor, director of emergency management and public safety for Consumers Energy, to get the utility's story.
Conference Rooms on Wheels
Consumers Energy took delivery of the trucks this summer, with one deployed to Jackson and the other deployed to Clinton Township, Mich. Both are positioned to respond to local emergencies and to support the utility's wider-spread storm restoration work.
Each unit is equipped with the latest communications technologies, including backup satellite internet and 800-megahertz radio equipment, to keep communication channels available in case typical systems aren't operational. Inside the step van's cargo area is the command center, with five laptop-ready workstations, a plotter to print large maps and blueprints, a conference table and a large television screen.
"What the vehicle really provides for is a conference room on wheels with redundant communications systems that can support our response to a variety of emergencies," Kantor said. "During emergencies, our No. 1 priority is the safety of the public and our crews. These vehicles augment our emergency response capabilities by providing a mobile command center for our field leadership to work out of, with redundant cellular modems and satellite networks to provide access to our company network and internet. These vehicles will be extremely helpful, especially for the more rural parts of our service territory."
More Effective, Efficient Coordination
The purpose of each mobile command center, according to Kantor, is to create a "one-stop shop" for emergency response, where all key team members can work together in close proximity in the field.
"Consumers Energy has adopted the Incident Command System as our common response structure that we use for any and all emergencies," he said. "And part of that structure requires close collaboration among our field leadership for electric and gas operations and other support roles, including a safety officer, liaison officer – who interfaces on the scene with any police or fire departments that may be responding to that incident – and a public information officer who provides support for both internal and public communications. The new mobile command centers support this collaborative structure by providing key necessities for responding to emergencies effectively, including communications and fully functioning workstations with printing and plotter access."
For more information about the Incident Command System, visit www.electricenergyonline.com/show_article.php?mag=97&article=773.
Prior to deploying the mobile command centers, Consumers Energy's emergency response team couldn't work together as closely as they needed to in the field. The vehicles they were using for the command center role – pickup trucks and service vans – only allowed for up to two employees to collaborate on-site, while the other team members had to work remotely to be able to access the technology tools they needed to effectively coordinate the emergency response efforts.
But now, all those tools are available in one truck, making it possible for all team members to work together in one place. And that means better communication and faster decision-making.
"What the new mobile command center trucks really provide is that one-stop shop – not only for our field leadership, but also for the supporting organizations within the business – to bring to bear one comprehensive effort to effectively respond to any emergency while ensuring the safety of our communities and crews," Kantor said.
The mobile command centers also make a bold statement to the public: that the utility has all hands on deck to do everything in its power to get services restored to customers as quickly as possible.
An Expanding Fleet Segment
Consumers Energy is among a growing number of utilities – including Florida Power & Light Co., Pacific Gas & Electric Co. and Tampa Electric, to name a few – that operate large, highly advanced mobile command centers.
"We have seen other utilities across the nation deploying these types of vehicles as an expanded commitment to emergency response," Kantor said. "So, with our planning efforts, we spoke with those utilities and incorporated their vehicle development and deployment learnings into our own processes."
When designing the mobile command centers, the Consumers Energy team had one overarching vision in mind, Kantor said: "That when outages or other emergencies occur, these vehicles enable us to deploy competent leadership with the tools they need on hand that help them ensure public safety, while restoring services to our customers effectively and efficiently."
Photo: Consumers Energy
*****
Mobile Command Center Spec Sheet
Chassis: 2016 Ford F-59 stripped chassis
GVWR: 22,000 pounds
Engine: 6.8-liter Ford gasoline engine
Transmission: Ford TorqShift six-speed automatic
Body: Thirty-foot aluminum walk-in step-van body built by Utilimaster. Body design was a joint effort between Consumers Energy and Utilimaster.
Equipment: Backup satellite internet, 800-megahertz radio equipment, five laptop-ready workstations, plotter to print large maps and blueprints, conference table, large television screen
Source: Mark Wolski, fleet acquisition and disposition for Consumers Energy
---
Sean M. Lyden
Sean M. Lyden has not set their biography yet
---