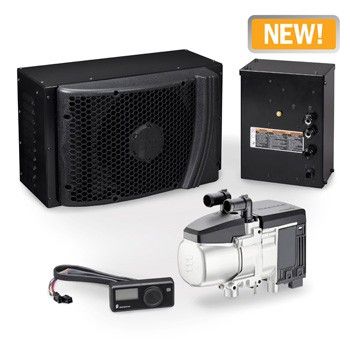 Miller CabEn Climate Solutions for Work Trucks
Miller Electric Mfg. LLC has announced the release of new CabEn Climate Solutions for truck cab heating and cooling. The only fully integrated cab heating and cooling systems on the market, CabEn Climate Solutions provide all-day relief from the outside environment while the truck is turned off.
Miller partnered with recognized industry leaders Bergstrom Inc. and Eberspacher to design, engineer and manufacture the systems with legendary Miller dependability. When the systems are paired with an EnPak power system, fleets and truck operators have the ultimate solution to eliminate truck engine idling.
Three new CabEn Climate Solutions are available. For work trucks that operate in both cold and hot environments, CabEn Climate Pak is a fully integrated heating and cooling solution.
For work trucks that primarily operate in cold environments, CabEn Heat warms the cab using a heater that's powered by the truck's diesel fuel supply. The truck's engine never needs to run to keep technicians warm.
For work trucks that primarily operate in hot environments, the truck's EnPak power system provides the power that CabEn Cool needs to maintain the cab at a comfortable temperature all day without the limitations of battery-operated cooling systems.
CabEn Climate Solutions utilize many existing truck HVAC components and controls, so the truck doesn't require major modifications or additional components that take up room. www.millerwelds.com
---
Kate Wade
Kate Wade has not set their biography yet
---