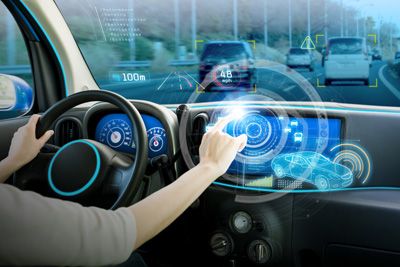 Integrating OEM Telematics into Your Fleet
Jessica Lauer, fleet analyst for Detroit-based DTE Energy, is responsible for overseeing metrics for the company's 3,700 Class 1-8 vehicles. That's not always easy to do, particularly with some of DTE's Class 5-8 vehicles. Problems have occurred after telematics devices were installed on the assets but before they were driven by the business units.
"It may be weeks before I can see [a vehicle]," Lauer said. "I may have missed an ignition event, so I have to wait until the business unit drives the vehicle to see if the device is reporting correctly. It just causes issues."
She doesn't have the same challenge, however, with Class 1-4 vehicles these days. Lauer said that's because she uses the Ford Telematics system, which comes built into a Ford vehicle when it's delivered.
"It makes everything so much simpler," she said. "All I need to do is upload the VIN to the Ford Fleet account to add my consent for Verizon Connect, then upload the VIN to Verizon Connect to start getting real-time data."
Of course, Ford is not the only OEM that's been getting into telematics these days, but the technology is not – at least yet – a be-all and end-all solution.
"In reality, the technology doesn't necessarily meet all the requirements," said Frank Daccardi, solutions architect, CIS telematics, for fleet management services company ARI (www.arifleet.com). "There always will be some level of a mixed fleet and auxiliary equipment that fleet might want to manage."
Integrating and Managing Data
While the ease of installation may put OEM telematics at an advantage, few fleets will be able to convert all of their vehicles immediately. That brings about some data integration challenges.
Help is available, however: "There is a history established by folks like Donlen laying a foundation that utilizes different types of integration," said Eli Rossiter, director of telematics and safety products at Donlen (www.donlen.com), a provider of financing and fleet management solutions. "We're prepared to integrate from OEMs."
OEM telematics data is like any other telematics-generated information: There's a lot of it and it's not always easy to digest.
"Ensuring a seamless normalization of telematics data presents a significant challenge for most organizations," said Lou Vella, manager of CIS telematics for ARI. "This is where strategic partners like ARI can play a big role in helping organizations effectively integrate the data and develop goals that will utilize the data for meaningful business improvements."
That requires access to the events collected, Rossiter said – and an ability to define the metrics that are important. "For a fleet with 10,000 vehicles, it may generate 3 million data points a day. You have to be able to aggregate it in a way that is meaningful for the customer."
So, it may be helpful for fleets to home in on a few key metrics.
"If they are not clear as to what they're trying to monitor or measure, they're likely going to feel overwhelmed," Daccardi said. "Do they want to know where their assets are? Manage utilization? Focus on safety? Most fleet operators are best served identifying the goals they're trying to achieve or the challenges they'd like to overcome and then familiarizing themselves with the various telematics solutions – OEM devices and third-party alternatives – that can best help them meet those objectives."
Assessing OEM Benefits
The benefits of OEM telematics make it at least worth exploring.
"Certain pockets of a fleet will be well-positioned to make use of this technology rather quickly," Daccardi said. "It may be best to start with a particular challenge or opportunity, solve for that purpose and apply that success to other areas of your fleet. Then look to the spillover benefits that can be applied and roll out the functionality to other groups as needed. You don't have to bite the whole apple at one time."
A key question to ask is whether the OEM can tap into vehicle data for older vehicles, which may help with standardization. "If an OEM has an option to look back, that might open new opportunities for fleets," Rossiter said.
About the Author: Sandy Smith is a freelance writer and editor based in Nashville, Tennessee.
*****
Pros and Cons of OEM Telematics
OEM telematics provide plenty of benefits – but there are shortcomings, too. Here, Eli Rossiter, Donlen director of telematics and safety products; Frank Daccardi, solutions architect, CIS telematics, for ARI; and Lou Vella, manager of CIS telematics for ARI, share their thoughts.
Because the OEM telematics device is installed at the factory, there is no need to take a vehicle out of the field to install equipment. Rossiter noted that this may mean less troubleshooting is required.
Another positive, Daccardi said, is that the cost of the telematics unit typically is included in the vehicle cost.
Vella pointed out that any problems with the equipment may be covered under the OEM warranty.
Perhaps the biggest disadvantage of OEM telematics is that third-party equipment may still be needed.
"Being able to measure all of the ancillary equipment that you'd typically find in a utility truck – compressors, generators, booms, etc. – plays an important role in the management of the fleet, and OEM units typically cannot deliver this level of visibility," Vella said.