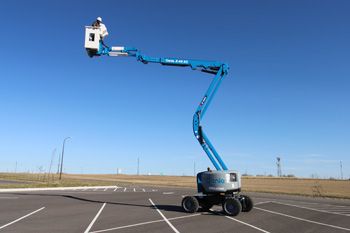 Insulated Z-45 Boom Lift from Terex Utilities
Terex Utilities has announced the new Genie Z-45 Substation Utility Boom (SUB). The Z-45 SUB is a purpose-built mobile elevated work platform. It is designed for substation work and other applications where an insulated device is needed but use of traditional bucket trucks is prohibitive due to size and maneuverability. Traditional all-steel aerial work platforms do not provide dielectric protection and have inherent differences of potential from the chassis ground to the boom tip that require specialized work practices and grounding.
Featuring a fiberglass jib section and fiberglass platform with swing gate, the Z-45 SUB complies with the ANSI A92.2 standard for Category E insulating rating of 20 kV, as measured between the boom tip and chassis. The standard fiberglass platform comes with floor grating and optional cutouts for increased visibility, access and water egress.
The Z-45 SUB has zero tail-swing and 355-degree rotation in tight quarters, self-propelled control, and up-and-over capability of the boom to give utility workers greater positioning flexibility. Operators can precisely position the boom with fully proportional drive and boom functions. The Lift Guard Contact Alarm provides a secondary warning designed to reduce crushing hazards. If an operator is caught between the controls and another object, a breakaway cable activates to disable lift and drive functions and trigger visual and audible alarms. www.terex.com/utilities/en/product/substation/z-45-sub
---
Kate Wade
Kate Wade has not set their biography yet
---