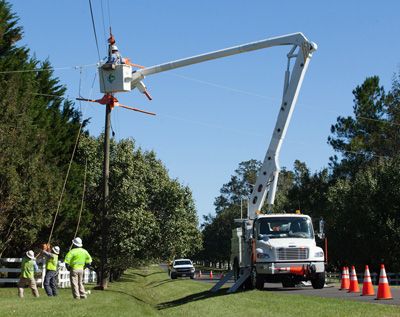 Improving Ergonomics through Better Truck Specs
Small adjustments can sometimes make a big impact. For those who work with utility trucks, details like properly placed steps, strategically placed handles, appropriately grippy surfaces and convenient storage can mean the difference between safety and injury. A careful eye toward work truck specs, then, can aid in ergonomics – and result in a happier, healthier workforce.
Chris Jolly, director of operations, fleet services, for Duke Energy Carolinas West Region, said that at one point, some of the utility's trucks didn't have appropriate storage locations for orange safety cones, and other storage locations weren't working due to company-mandated changes in cone sizes. So, cones often were picked up and thrown in the bed of a truck. Workers who did this job after job, day after day, could have been exposed to stress injuries in the shoulder and back. But now all of the trucks have cone storage capabilities on or near the front bumpers, and the next generation of trucks will include further improvements.
Jolly also reported that as of late September, his entire region – including nine garage locations – has been injury-free for five years. That kind of accomplishment takes a decided focus on the company safety culture, and proper truck and equipment specs play a role as well.
Every year at Duke Energy, fleet services schedules a "Road Show." These meetings, Jolly said, are intended to serve as places to gather ideas and improvement recommendations from customers, customer delivery (distribution), transmission, fleet services, health and safety, and OEM representatives. There's classroom time, trucks on hand to inspect and touch, and opportunities for everyone to provide input. Jolly takes part to better understand what his customers are saying, and to be able to support them once trucks arrive and throughout the lives of the vehicles.
"We'll go through line item by line item," he said. "We get so many different ideas, and each idea is addressed and considered."
Jolly has learned, for example, to consider the height of steps used to get in and out of a truck. Grab handles – including those for getting into and out of an aerial device – should allow operators and passengers to follow the three-points-of-contact rule, which states that with two hands and two feet, three of the four should be in contact with the ground or equipment until stability is established. Duke Energy has experimented with different surfaces on steps and the like, working to find solutions that are aggressive enough for boots to "stick" in adverse conditions but not so aggressive that they may catch pant legs and create a hazard.
Jolly also has gained a greater understanding of the importance of housekeeping in the backs of trucks – and around pedestals – with items properly stowed to avoid anyone tripping over them. In addition to helping prevent tripping, this allows technicians to better position themselves ergonomically when making repairs around the pedestals, torqueing bolts or making hydraulic repairs. One Road Show uncovered the importance of the truck's toolbox configuration and placement to prevent line technicians from having to crawl under the boom or over material to access the toolbox, creating a safer overall work environment.
The Awareness Challenge
At Element Fleet Management (www.elementfleet.com), meanwhile, Ken Gillies, senior truck consultant, said that – in terms of ergonomics – he's been hearing about reduced seat travel, the adjustment that allows for proper driver positioning and back support. Positioning and back support can be put at risk in certain circumstances, particularly when full-sized vans are replaced with smaller cargo vans.
"As the vans have gotten smaller, the driver compartment also has shrunk, especially when there's a need for a partition in the vehicle," Gillies said. "The problem with that is that a driver taller than 5'10" will be pretty cramped. The other challenge is that seats have gotten narrower along with the reduced seat travel. What you end up with there is that drivers have weight borne by the side of the seat rather than the cushion inside. That can lead to pinched nerves and numbness in the legs. I've had specific interactions with customers where this has been a problem."
The good news is that Gillies is seeing more collaboration between company leadership and end users of equipment in general, including the use of on-site visits so that leaders can observe not just how a vehicle is being used, but also how the employee interacts with the vehicle.
"Awareness is a challenge for many fleet managers," he said. "You can't possibly know everything about everything. Some things just don't hit their radar until they're forced into it because of an unfortunate accident."
In sharing what he's seen work for others, however, clients have told Gillies they're glad they've been made aware. In addition, input from the field "has to be taken to heart and analyzed," he said. "Drivers may ask for the sun, moon and stars, but in my experience, they're appreciative of someone taking an interest."
About the Author: Fiona Soltes is a longtime freelance writer based just outside Nashville, Tennessee. Her clients have represented a variety of sectors, including fleet, engineering, technology, logistics, business services, retail, disaster preparedness and material handling. Prior to her freelance career, Soltes worked as a staff writer at newspapers in Tennessee and Texas.
*****
Reducing Injury Statistics
The U.S. Bureau of Labor Statistics reports that musculoskeletal disorders (MSDs) make up one in three cases of worker injury across the nation. The service sector – including the utility industry – accounts for one in for four work-related MSDs.
So, how can fleet work to reduce those statistics? Chris Jolly, director of operations, fleet services, for Duke Energy Carolinas West Region, said creating a safety culture requires making things "personal" with employees. "I always want to set the expectation that we work safely," he said. "That's our number one priority. But number two, we actively care about you as an employee. I want you to have that same philosophy for yourself, and that same caring attitude about your teammate. We want you to go home to your family every day the way you came in."