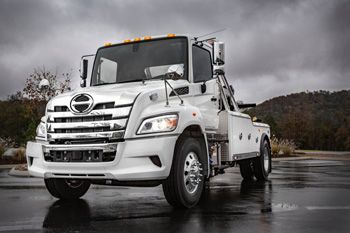 Hino Towing and Recovery Trucks
This past spring, Hino Trucks announced the expansion of its product lineup with the introduction of the all-new XL Series. The Hino XL7 and XL8 models are powered by Hino's legendary A09 turbo-diesel 8.9-liter inline six-cylinder engine boasting a B10 life of 1 million miles.
Production of the new Hino XL7 and XL8 trucks will start in early 2019, and the trucks will be assembled in Mineral Wells, West Virginia, at Hino's new 1-million-square-foot state-of-the-art production facility. The Hino XL Series has been coupled with the versatile Century 3212 G2 that is designed with the capability of towing a wide range of vehicles, from passenger cars, vans, city tractors and motor homes. With multipositional rear jacks, dual 15,000-pound planetary winches and a 16-ton recovery boom, this unit was designed to handle a wide variety of recovery jobs.
In addition, the patented design of the Hino XL Series with a Miller Industries 16-Series LCG (Low Center of Gravity) carrier lowers the deck height 5 to 6 inches over conventional carriers. The lower height allows for the transport of taller loads, such as forklifts or manlifts, that may be overheight on a conventional carrier, as well as providing better stability during transport.
The Hino XL Series will be offered in a host of straight truck and tractor configurations with a GVWR range of 33,000 to 60,000 pounds and GCWR up to 66,000 pounds, with max performance of 360 horsepower and 1,150 pound-feet of torque. www.hino.com
---
Kate Wade
Kate Wade has not set their biography yet
---