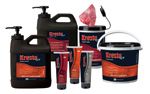 Heavy-Duty Hand Cleaners
Deb Group has introduced a complete line of heavy-duty hand cleaners designed specifically for the automotive aftermarket industry. KrestoGT offers advanced and powerful products formulated to protect, clean and restore technicians' hardworking hands.
KrestoGT heavy-duty hand cleaner contains all-natural, biodegradable scrubbers with no harsh solvents or sharp scrubber materials, keeping even the grimiest hands not only clean, but healthy and productive as well.
Developed with Deb's advanced technical expertise, the new KrestoGT line will offer high-performance skin care products for the automotive industry at a great value. New products include KrestoGT Orange Boost and KrestoGT Cherry Turbo. These formulations are available in gallon, half-gallon, 2-liter cartridge and wipe formats that address the removal of a broad range of automotive contaminants. KrestoGT Paint Shop is an advanced formulation specifically designed to remove extra-tough soils such as paint, tar and adhesives.
The KrestoGT line of products will be available for purchase beginning in January 2015. www.krestogt.com
---
Kate Wade
Kate Wade has not set their biography yet
---