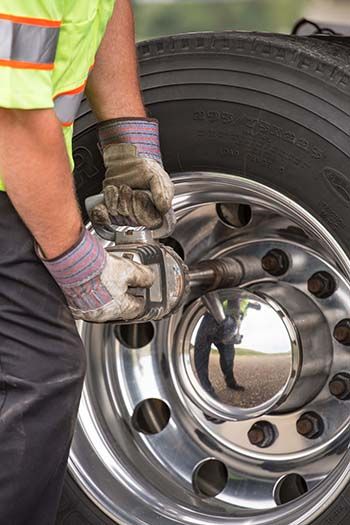 Goodyear Storm Priority Program
As utility crews and their trucks spring into action during and after hurricanes and other severe weather incidents, the risk of tire damage due to storm-related debris increases exponentially. During these times, The Goodyear Tire & Rubber Co.'s Storm Priority program helps get utility trucks up and running quickly so utility crews can continue their power restoration efforts.
Goodyear Storm Priority is offered through the 24/7 Goodyear-Fleet HQ Emergency Roadside Service program, which helps trucks that have been immobilized by tire issues return to service.
To access Goodyear Storm Priority during and after severe weather incidents, utility truck drivers call a dedicated line: 1-855-STORMHQ. Calls that come in through the line are given high priority and immediately routed to the 24/7 Goodyear-Fleet HQ Solution Center, where trained agents capture vital information, including the location of the caller's vehicle. Goodyear agents will then locate and dispatch a service technician from the nearest Goodyear Commercial Tire & Service Center or independent, authorized Goodyear commercial tire dealer to the truck. The technician will evaluate the vehicle's tire situation and help return it to service quickly and efficiently.
Goodyear Storm Priority is available to utility fleets of all sizes, configurations and vocations. www.goodyeartrucktires.com
---
Kate Wade
Kate Wade has not set their biography yet
---