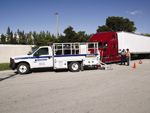 Goodyear fleetHQ Solution Center
Introduced three years ago, the Goodyear fleetHQ Solution Center combines emergency road services with a portfolio of business solutions. Included are online information systems providing 24/7 access to service in progress, retread history, repair data and tire purchase history.
Designed to save fleet managers administrative time, Goodyear fleetHQ quickly connects fleets with more than 1,800 locations in the fleetHQ Servicing Dealer Network for tire-related emergency road assistance. Fleet users signed up for the free service – offered without enrollment or incidence fees – pay the same price for tires on the road that they do at their own facilities.
Fleet customers of fleetHQ can also establish complete portfolios listing all tires installed on all of their trucks, streamlining the road service process by providing the exact type, brand and size of tire needed for replacement.
"In 2010, the Goodyear fleetHQ Solution Center helped more than 164,000 customers, a nearly 60 percent increase over 2009," said Tony Starling, general manager of fleetHQ. Fast response time for emergency roadside service, multiple business tools and ease of use are major reasons why the program has more than 20,000 customers enrolled."
Visit www.fleethq.com for more information.
Fleet Maintenance, Tires & Brakes
---
UFP Staff
UBM Staff has not set their biography yet
---