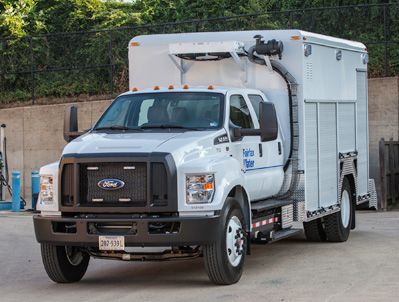 Fairfax Water: Overhauling Crew Truck Specs to Improve Safety and Productivity
In his classic bestseller, "Thriving on Chaos," management expert Tom Peters put it best when he wrote, "Excellent firms don't believe in excellence – only in constant improvement and constant change."
Perhaps the same could be said about excellent fleets, where you never ultimately arrive at a destination called "excellence." Instead, you remain on a journey of continuous improvement, making changes along the way to produce better results for your customers and the company.
This philosophy of constant improvement is what has driven Dale Collins, fleet services supervisor at Fairfax Water in Virginia, and his team to make significant changes with their new generation of crew trucks – to increase storage capacity, improve safety, boost productivity and reduce operational costs.
As of press time, three of the four new crew trucks ordered have been delivered to Fairfax Water. After three years and numerous meetings with stakeholder groups, vendors and peers, Collins and his team feel good about the changes made.
UFP recently spoke with Collins to get a behind-the-scenes glimpse into their process for continuous improvement with vehicle specs. Hopefully, you'll find some new ideas that you can use to improve your own fleet's performance.
Fall 2016: The Process Begins
In the water utility world, a crew truck transports workers, equipment and essential gear to perform a wide range of daily tasks for the water system, such as raising a meter box, replacing valves, repairing fire hydrants and installing services. And when there's a water main break, these trucks are the first on the scene, with the right people, tools and materials needed to fix the issue.
Fairfax Water's service area had recently expanded by the fall of 2016, which meant that the fleet would need to add new crew trucks and replace some of the older units.
According to Collins, although the utility's previous generation crew trucks did the job, there was still a lot of room for improvement to help make the job safer, less stressful and more efficient for fieldworkers.
"I believe in a philosophy of constant improvement," Collins said. "If you wait on stuff, you're going to get behind the curve, either on technology, on safety, on just about any and everything."
Collins spoke with his staff to discuss the pain points with the existing crew trucks. He then met with all stakeholders, from supervisors to the utility workers in the field, to get their ideas on what they would like to see improved.
The new crew trucks would address these pain points, among others.
1. The space in the extended cab was too tight for a five- to six-person crew.
"The trucks were just so hard to get in and out of to get to the backseat," Collins said. "At least in the wintertime, there's usually only one or two people in the truck. But in the other nine months of the year, the entire crew [five to six people] ride in the truck. So, their ingress and egress would be compromised getting into the cab itself."
2. The need for more – and better organized – storage space.
"We had to expand our parts list to carry more and more items. So, space was always one of those considerations. And not only the space itself, but how we were using that space to improve accessibility and ergonomics," Collins said.
There were several changes to improve storage. The most notable was shifting from an abovedeck utility mount air compressor to an underdeck compressor installed between the frame rails, which helped to free up about 25% more usable space.
3. Lost productivity from regeneration issues with diesel engines.
"We tend to idle a lot [at the job site]. And with a diesel engine, if you don't sustain enough exhaust temperature and enough air moving through the engine – such as when the truck is running up and down the road – the diesel particulate filter will get clogged," Collins said. "Either you have to go through manual re-gen, which is time-consuming and sometimes doesn't cure the problem, or you have to remove the DPF and send it out to have it cleaned, which can take anywhere from a couple of days to over a week. And usually these types of problems only manifest during our busiest time of year – the winter."
With these pain points in mind, Collins and his team got to work to develop a rough draft of what the new specs might look like. This process of identifying the needs, gathering stakeholder input and sketching out the plan would take about three months.
Spring 2017: Initial Approval; Field Trip
After gathering feedback from the stakeholder groups and developing a plan, Collins presented his proposal to senior management and received their initial approval to proceed with the purchasing process.
But before engaging the purchasing department, Collins wanted to confirm that the proposed new specs would be viable for their crew truck application. So, he took a field trip to visit Bruce Ottogalli, transportation manager at SUEZ Water in Hackensack, New Jersey, who was operating crew trucks similar to what Collins had in mind.
"He was using the gasoline versus the diesel engine and dealt with some of the same pain points with success," Collins said. "You want to find out what somebody else is doing so you don't have to reinvent the wheel, and then just tailor it to your situation."
Collins shared his findings from the SUEZ Water visit with the stakeholder groups and updated the specs based on their feedback.
Summer 2017: Securing Funds; Contacting the Body Company
Now, Collins was ready to engage the purchasing department: "Here are the crew trucks we're going to need for the next year. These are my specs. And I have money in my budget for 2018 for these crew trucks."
Then it was time to get the body company involved – Swab Wagon Co. (www.swabwagon.com), headquartered in Elizabethville, Pennsylvania, which Fairfax Water had been working with for several years.
"Swab had built a large portion of our bodies on our previous models," Collins said. "I visited them, and they helped me take some of the specifications that I had in word form to create drawings that would be our working concept."
Fall 2017: Refining Specs
With drawings in hand, Collins went back to the stakeholder groups to get more feedback and refine the specs.
"You can see there's a theme to this. I would walk around and talk to a lot of folks multiple times," Collins said.
The typical water-main-break season for Fairfax Water is November 1 to March 1. And that winter, from 2017 to early 2018, was particularly harsh, making it a busier time than usual for Collins' team and the work crews. So, they needed to table the planning process for the new trucks until the spring.
"That main-break season was extremely hectic. But many of the pain points with the existing trucks were made very obvious that season. So, I had a lot of support looking for something better," Collins said.
Spring 2018: Request for Bid
"By the time spring showed up, I had a lot of buy-in from management and from the crews that were going to use the equipment. So, it was full speed ahead," Collins said.
He put together a 12-page chassis, body and equipment specification for bid to three Ford dealers. It was a tight race, with the winner having won by a margin of less than $100 per vehicle.
Summer 2018: Pre-Build Meeting
About three weeks after Fairfax Water issued the purchase order, Collins set up a pre-build meeting at Swab Wagon Co. Attending the meeting were the Swab representatives, the Ford dealership representative and Collins.
The purpose of the meeting: "Making sure that all of our concepts on paper were going to match with the engineering realities," Collins said.
January 2019: 30%-Build Meeting
The first chassis began to arrive at Swab in January.
By that time, Swab had built enough of the body to set it on the chassis and the frame rails. Collins met with the Swab and Ford dealership representatives for a 30%-build review to re-evaluate and finalize the placement of certain components.
"We finalized the placement of things like the taillights, so they would not be obstructed with the bumper-mounted cone holders," Collins said. "I also brought some of our larger equipment to make sure that they would fit properly. I took a tamper, rock drill, pavement breaker and the cones to make sure everything would fit like they're supposed to. I wanted to make sure that we used all the space to the best of our ability and, if we had a problem, we would identify it early."
June 2019: 90%-Build Meeting
About six months later, it was time for Collins to meet again with Swab and Ford dealership representatives for a 90%-build meeting to go over the smaller items.
"We talked about where we were going to mount the vice holders, where we were going to mount the license plate light, and make sure we had the right backup alarm because that specified a particular broadband backup alarm," Collins said.
This is also when Collins began his internal public relations push to build awareness and anticipation for the new trucks – and how they would make the crews' jobs easier.
"I would talk to anyone who would listen to me," Collins said. "It's going to have the big cab with the four big doors, so you're going to be able to get in and out of the thing. It's going to have handles where you need them. It's going to have compartment lighting that's directly focused on the inside, so there are no shadows. It's going to have a pass-through compartment and a 1,000-pound slide for the big, heavy materials. You're not going to overload it."
August 2019: Delivery
As of press time, Fairfax Water has taken delivery of three of the four ordered units.
But before the trucks are put in service, Collins lined up manufacturer-specific training for staff because of the large number of changes in the chassis, body and compressor.
"It's about training, training, training," Collins said. "I don't care how good something is that you have; if your people don't know how to use the equipment properly and safely, that's no good."
*****
Crew Truck Specs
Year/make/model: 2019 Ford F-750
Engine: 6.8-liter Triton gasoline engine (320 horsepower and 460 pound-feet of torque)
Configuration: Crew cab (full four doors)
Cab-to-axle: 178 inches
Gross vehicle weight rating: 31,000 pounds
Brakes: Hydraulic
Body: 14-foot Maintenance & Operations Series utility body by Swab Wagon Co.
Compressor: Vanair 185-cfm underdeck
Cost: About $175,000 per unit
---
Sean M. Lyden
Sean M. Lyden has not set their biography yet
---