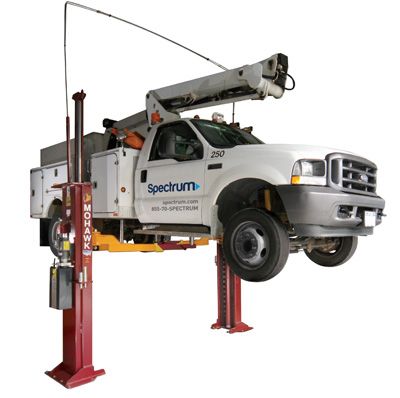 Choosing the Right Vehicle Lift for the Job
Prior to purchasing a new vehicle lift, a fleet manager must understand exactly what is needed for their shop.
According to Steve Perlstein, sales and marketing manager for Mohawk Lifts (https://mohawklifts.com), fleet managers "need to do their homework in order to make an educated decision."
So, what are some of the most important items to consider? UFP recently spoke to vehicle lift experts to find out.
Identify Your Needs
Maintenance is among the top factors fleet managers should think about before they buy, advised Doug Spiller, heavy-duty product manager for Rotary Lift (www.rotarylift.com).
"The best lifts will require minimal maintenance while offering years of safe, reliable service," he said. "One of the first questions a fleet manager should ask themselves is, what vehicle maintenance am I going to perform, and will this lift help me do that faster, better and easier than I do it today?"
Contacting a vehicle lift distributor and local companies that perform similar maintenance services is a good starting point. Find out what those companies use to raise their vehicles, and don't rely on a single style of lift for all of your maintenance work.
"Not all lifts have the same features and benefits. A mixed fleet – cars, trucks, work trucks, heavy-duty vehicles – needs lifts that offer different options and benefits," Spiller said.
Seek Certified Quality
The only lifts fleet managers should consider purchasing are those that have been third-party tested and Automotive Lift Institute (ALI) certified to meet the current edition of ANSI/ALI ALCTV, which is the industry safety standard, advised Bob O'Gorman, president of the Automotive Lift Institute (www.autolift.org).
"When you choose a certified lift, you can rest easy knowing that it has been tested to meet the industry safety and performance standards," he said. "Plus, the International Building Code, which is the building code in use or adopted by all 50 states, requires that only certified lifts be installed."
Beyond testing and certification, accessories such as lockable disconnect switches can contribute to added safety. An accessory must be certified for the lift on which it is being used, Spiller noted.
In addition, shops should seek lifts that offer the lowest total cost of ownership, not just a low purchase price.
"The costs of repairs and downtime from a cheap lift can more than outweigh any upfront price savings," Spiller said.
Local and long-term service is something that is missed in many procurements.
"Purchasing a vehicle lift is a long-term investment, so choosing the right partner is important," Spiller added. "Perhaps a manufacturer or brand offers an extended warranty or has more certified accessories."
Watch Vehicle Weight
A lift is not going to be useful if it can't properly raise the vehicles that need to be serviced. So, fleet managers should be sure to consider vehicle weight, weight distribution and where the manufacturer's recommended lifting points are located.
"If a lift does not have the rated capacity to raise a particular vehicle or cannot reach the manufacturer's recommended lifting points on that vehicle, it should not be used to service that vehicle," Spiller said.
One of the most common mistakes Perlstein said he sees is overloading the four swing arms on a two-post lift, citing the Ford F-450 – one of the most popular trucks among utility fleets – as an example.
Regardless of which organization is operating it, it's the same basic truck just about everywhere.
"It's got the same toolbox full of thousands of pounds of tools. It often has a one-man bucket. That adds a lot of weight. People need to consider that because the same truck off the dealers only weighs about 9,000 pounds. By the time utility fleets are done equipping the truck, it likely weighs 12,000 to 16,000 pounds," Perlstein said.
He explained that a two-post lift – the most common lift type – has four swing arms that are rated one-fourth of the total capacity of the lift. Using the previous example of a loaded Ford F-450 utility truck, say the truck only weighs 13,500 pounds. However, what should be considered is that the heavy rear axle weighs 9,500 pounds, while the lighter front axle weighs 4,000 pounds. Dividing the rear axle weight by the two rear swing arms means each arm should be rated at 4,750 pounds per arm. At 4,750 pounds per arm, the full rated capacity of the lift should be 19,000 pounds. Per all lift manufacturers and the Automotive Lift Institute, swing arms should never be overloaded.
Lastly, Perlstein noted, "One of the things we always suggest is finding out what the heavy end of the vehicle weighs."
About the Author: Grace Suizo has been covering the automotive fleet industry since 2007. She spent six years as an editor for five fleet publications and has written more than 100 articles geared toward both commercial and public sector fleets.
*****
Boosting Shop Productivity
The increase in technician productivity and efficiency is a significant benefit of installing and using vehicle lifts. The amount that productivity increases depends on the lift or lifts that are selected for the shop as well as the technicians' ability to effectively use them.
"The type of lift shops choose should be conducive to the tasks it will be used for, and the particular brand and model of lift should be evaluated for user-friendliness, speed and useful features," said Doug Spiller, heavy-duty product manager for Rotary Lift.
Steve Perlstein, sales and marketing manager for Mohawk Lifts, provided an example of using a lift with the company's SpeedLane adapters.
A technician usually takes about five to 10 minutes to position each of the arms underneath the four corners of the vehicle. Instead, Perlstein described the benefit of using SpeedLane, a drive-on ramp for two-post lifts that doesn't require positioning of the swing arms yet leaves the vehicle's tires hanging free.
"If you eliminate the five minutes of positioning the vehicle on the lift, getting the arms underneath, and I'm going to service four vehicles a day, that's about 20 minutes a day … 100 minutes a week," he said. "Now my shop just got much more productive."