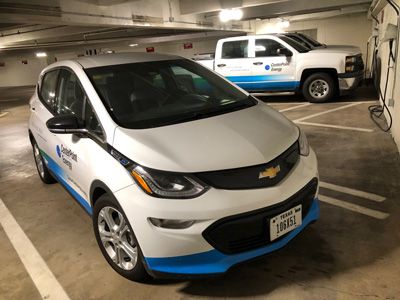 CenterPoint Energy to Electrify 100% of Light-Duty Fleet by 2030
In late September, CenterPoint Energy announced that, by the end of this decade, the company will replace 100% of its light-duty fleet – currently 134 cars, vans and SUVs – with plug-in hybrid and all-electric vehicles at CenterPoint's electric operations facilities in Evansville, Indiana, and Houston.
Officials also said the company would electrify 5% of its heavy-duty fleet at those locations by 2025 and 10% by 2030.
So, what has led CenterPoint's electric operations to go all-in on fleet electrification? What fleet applications will make the transition first? And what does the company see as the business case for electrified vehicles?
UFP recently spoke with Barb Varanauski, director of fleet, shop services and radio communications for CenterPoint Energy, to get her perspective. Here is an edited excerpt of our conversation.
UFP: Replacing an entire segment of your fleet with electrified vehicles is a bold move. What has led CenterPoint Energy to take that step?
Barb Varanauski: CenterPoint Energy has an ongoing commitment to ensure access to all affordable, reliable, sustainable energy. And one of the things we thought about was leveraging innovative technology to reduce our emissions and transition the communities we serve to a clean-energy footprint. So, we looked at our carbon footprint plan announced earlier this year and asked ourselves, "How can we lead?"
And the best way to lead is to put our plan into practice with our own fleet. We've started with our electric operations in Houston and Evansville, looking at our light-duty options. There are [electrified] vehicles available from the manufacturers that fit our operational needs. It looked like a win for us to go forward with this fleet electrification strategy, and we made the announcement.
Can you talk about some of the makes and models of electrified vehicles that you're considering on the light-duty side?
I can't comment on specific manufacturers. But we have standards to meet for our clients to do their type of business. And we actively look at what's available in the marketplace to ensure that the vehicles the manufacturers are producing will match our internal standards to allow our clients to continue to do their jobs.
But as the market evolves, we're anticipating – especially since this is a 10-year initiative – there should be many more options available on the market. And so, as those different options become available, we will consider all of them and possibly increase the vehicle classes that we are looking at to maybe include medium- and heavy-duty vehicles as well.
Which fleet applications will be electrified first?
Right now, we're looking primarily at our light-duty vehicles, which are cars, vans and sport utilities. These vehicles would be used by upper management, service area consultants who meet with clients for new business development and any operational roles that don't require a truck.
We have a fleet standards committee that works closely with our operational groups to determine what vehicles meet their needs. And those clients in that SUV-and-below category are the ones that will be moving forward with this electrification.
Now, of course, as the medium-duty vehicles – and we include pickup trucks in this category – become more available, we are definitely committed to reviewing those options and adding them to our electrification plan. We just need to make sure that the market meets what our needs are to operate.
What framework do you use to determine which vehicles to begin electrifying? Is it based on range requirements and metrics like that to ensure a vehicle is a good candidate?
We use various metrics to monitor the health of our fleet and guide our vehicle replacement strategy. A few of these metrics include miles driven, operating and maintenance costs, idle time and so forth. As our light-duty vehicles come up for replacement, we plan to transition those vehicles to an electric vehicle. And we're anticipating that this light-duty transformation will be completed by 2030.
So, if I understand correctly, you're saying that, based on the products on the market today and how you anticipate these vehicles being used, the range is not really an issue for CenterPoint's light-duty vehicle roles?
Correct. That's because our folks will be driving those vehicles in our service territories. They'll go do their daily business, and the vehicle would return to a service center. And part of our [electric vehicle] rollout is also putting charging stations in the service centers where these vehicles will be operating.
From your perspective, what is the business case for CenterPoint Energy to go all-in with electric vehicles?
First, we have a carbon policy goal. And we're always looking for ways to improve our air quality in the communities we serve. We believe that leading by example and showing our customers what is out there for electrification is a great way to go. So, having our fleet electrified and branding our image on these vehicles shows the community our commitment to sustainable energy.
Now, we do anticipate less maintenance on electric vehicles, which might lower our costs. But that wasn't really a driving factor for this decision. It was more about the impact on the environment. As a company, I would say that the potentially lower operational and maintenance cost was more of a secondary thought.
What advice do you have for other utility fleet professionals as they think about electrifying their fleets?
[Electrification] can be a win for everyone. So, take small steps, re-evaluate, and talk to your peers to learn what they're doing and how they're doing it, which really helps when trying to bring these business cases to your management for approval.
---
Sean M. Lyden
Sean M. Lyden has not set their biography yet
---