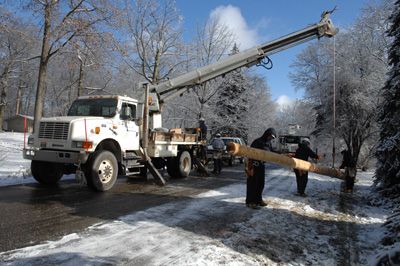 Best Practices for Winterizing Your Fleet
Winter is just around the corner, and it often brings with it less-than-ideal operating conditions for utility fleets in many parts of the U.S. and Canada.
UFP recently spoke with two industry professionals who shared some best practices for keeping operations up and running while facing harsh weather conditions including snow, ice and freezing temperatures.
Start Preparing Early
For many utility fleets, the biggest challenge during the winter season is keeping vehicles and equipment in peak operating condition to avoid unforeseen downtime when those units are needed most. Heavy use during emergent situations often results in unscheduled repairs and breakdowns – or worse yet, accidents, according to Charlie Guthro, vice president of global strategic services for fleet management company ARI (www.arifleet.com).
Michigan-based DTE Energy, which operates a fleet of more than 5,000 assets ranging from automobiles and SUVs to bucket trucks and construction equipment, experienced its snowiest month in January 2014, with 39 inches of snow. During that same winter, Southeast Michigan experienced 77 straight days with at least 1 inch of snow on the ground.
"Because of the snow, ice and colder temperatures, our challenges include an increased number of no-starts, de-icing windshields, door locks icing, increased towing and service calls, and increased response time due to icy and snowy roads," said Mike Homan, DTE's director of fleet.
In 2013, DTE began equipping its mechanics with mobile jump packs/personal battery chargers due to the large number of no-starts and service calls during the winter months. In addition, the fleet began modifying its CNG assets to include block heaters.
Homan recommended inspecting nonskid surfaces ahead of the winter months to ensure they still provide the proper protection from slippage. In September, the fleet publishes winter preparation checklists and ensures its garage heaters are working properly.
DTE's checklist also includes stocking up on winter supplies such as anti-freeze, wiper fluid, batteries, wipers, winter gear for the team and portable salt containers so drivers can safely exit their vehicles even when there is ice on the ground. The utility begins stocking up as early as mid-August.
"Preparing for winter months in advance enables us to acquire the material and equipment we need, even if it's in short supply," Homan explained.
Keep Fleet in a Peak State
According to Guthro, there are four key pillars to successful asset management: buy right, repair right, replace right and drive right.
"This methodology, especially regarding your capital investment strategy, puts your organization in the best position to operate safe and reliable equipment," he explained. "It is also critical to leverage data analytics to shift from a 'break and fix' model of fleet maintenance to a more proactive 'predict and prevent' approach that better controls operating costs and minimizes unforeseen downtime."
To combat the exponential spike in maintenance expenses during harsh winters and other storm seasons, ARI works closely with its customers who operate in these conditions to aid them in preparing accordingly, which helps them to control escalating costs and maximize vehicle uptime. Keeping vehicles and equipment in top shape throughout the year helps cut back on preventable repairs.
"Be sure to schedule preventive maintenance and regulatory inspections according to your seasonal demand so you avoid unnecessary downtime during peak storm season," Guthro said.
Homan agreed. "The key is being ready well in advance. In our state, we know when winter is coming and we know snow and ice are part of the equation, so we prepare both our vehicles and our employees ahead of time to ensure we are ready to safely and reliably serve our customers, even during the coldest winter month," he said.
About the Author: Grace Suizo has been covering the automotive fleet industry since 2007. She spent six years as an editor for five fleet publications and has written more than 100 articles geared toward both commercial and public sector fleets.
*****
Preparing for the Worst
How would your fleet operations hold up under extreme winter conditions?
Charlie Guthro, vice president of global strategic services for ARI, advised assessing all the various factors that come into play during a weather emergency.
Some questions to ask yourself include:
Does your organization have the ability to provide emergent shift work?
Do you have the equipment and staff available to service the peak demand?
Were you properly prepared during previous emergencies and is there insight you can glean from those scenarios?
Do you have emergency service providers if demand outweighs your capacity?
Even little things – such as how you will fuel your vehicles during an outage or having an after-hours contact for parts – can have a significant impact on your ability to operate effectively during adverse weather conditions. Develop contingency plans well in advance of emergency situations to help ensure you're ready to face virtually any challenge.