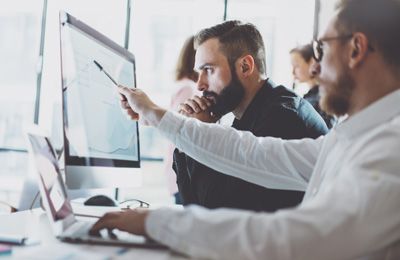 When Nebraska Public Power District added telematics capabilities to 200 of its work trucks, a few surprises lurked in the early reports.
The data showed the work trucks spent much more time idling than anecdotal evidence from drivers and fleet managers had suggested, according to Matt Gilliland, director of operations for the largest public utility in Nebraska, which serves 91 counties in the state.
That's the kind of insight that utility fleet managers hope to see from adding telematics to their fleet. A vehicle equipped with a telematics device can record and transmit a wide array of information, from engine fault codes to idle time to driver behaviors – like speeding and hard braking – as well as vehicle location.
However, utilities may not have staff with the right skill set to manage and analyze all the data flooding in. Will utilities have to hire new staff to fill those roles, or can the work be tackled in-house? Keep in mind, experts say a continuously connected vehicle generates about 20 GB of data every hour.
Ramping Up
Some utility fleets, like Nebraska Public Power District, plan to handle the task with current employees. Before rolling out their program, the utility sent fleet employees to seminars that weren't tied to any vendor and also took advantage of training with their telematics provider.
"We did not, on the front side of this effort, staff up by any means, but we did get coached up," Gilliland said.
Most fleet professionals have a background in engineering or automotive mechanics but not in managing data, so existing staff will need training for this new task.
"I don't see us increasing headcount or changing the makeup of that headcount," Gilliland said. "I think these are skills that can be adapted, learned and brought into their daily practices."
When he previously worked for a utility, John Adkisson, who currently serves as director of fleet services for Asplundh Tree Expert LLC, helped implement a fleet telematics initiative for 1,800 vehicles. But looking back, he said, he realized the organization never developed a process for managing data. That made it difficult to develop reports that were outside the standard ones provided with the telematics software.
"I didn't anticipate the whole custom reporting requirements that we saw, and we weren't staffed to do that," he said.
Now, in his role at Asplundh – a provider of vegetation management and utility infrastructure services based in Willow Grove, Pennsylvania, with about 45,000 vehicles outfitted with telematics – Adkisson has reorganized a team of IT analysts into a fleet analytics group. The team is responsible for preparing customized reports for managers and senior executives in a way that's easy to read.
"We present the data visually so that someone is able to look at the report and within 20 seconds know what that report was trying to communicate," he said.
Plan for Analytics
Due to its size, Asplundh already had staff with the right skill set. However, smaller utilities aren't likely to be in that position.
"Unless your fleet organization has been hiring people that are well-versed in things like pivot tables and database management, you'll probably have to outsource that to a company that does that full time, or you'll have to train someone in your organization to do it," Adkisson said.
Asplundh initially focused its efforts in two areas: fuel spend and engine maintenance. The telematics data helps compare onboard fuel consumption data to fuel card usage to validate the spending on fuel. And by reading engine fault codes, the team can develop a list of critical faults to drive proactive maintenance scheduling.
Those who have adopted fleet telematics recommend planning for analytics resources, most likely from an external resource, as part of the implementation.
"Every fleet manager should have an analytics team at their disposal, and a telematics vendor would be one option for most utilities or smaller fleets because they're probably not going to have the resources given to them to do analytics," Adkisson said.
About the Author: Gary L. Wollenhaupt is a Phoenix-based freelance writer who covers the transportation, energy and technology sectors for a variety of publications and companies.
*****
5 Ways to Manage Data Analysis
Implementing a telematics program without planning for additional analytics means the fleet – and the utility as a whole – won't reap all the benefits it could. Recently, experienced fleet managers suggested the following five options to help ensure a utility realizes all the benefits of the telematics investment.
1. Hire for skills. Staff up with trained analytics professionals.
2. Train internal staff. Give existing employees the training they need.
3. Use existing staff. Share fleet analytics tasks with existing staff in the finance and/or other departments.
4. Rely on vendors. Some vendors offer analytics as part of their services.
5. Outsource. Contract with outside experts to run reports and analyze information.