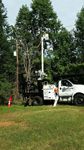 Asplundh Adopts Propane Autogas
Asplundh, an international provider of vegetation management services to utilities and municipalities, is one of the first in its industry to adopt propane autogas for some of the medium-duty trucks in its fleet.
Currently, Asplundh has two Ford F-650 trucks powered by ROUSH CleanTech propane autogas fuel systems. The most complex unit is a bucket truck equipped with a 58-foot aerial lift. An Asplundh-affiliated company also operates a chip dump truck in California where emissions regulations are stringent.
It is estimated that each of these trucks will reduce carbon dioxide emissions by about 117,000 pounds over its lifetime. Compared to conventional diesel counterparts, propane autogas vehicles also minimize smog-producing hydrocarbons, virtually eliminate particulate matter and lessen noise levels. Additionally, propane autogas lowers fuel and maintenance costs and decreases reliance on imported oil. www.asplundh.com
---
Kate Wade
Kate Wade has not set their biography yet
---