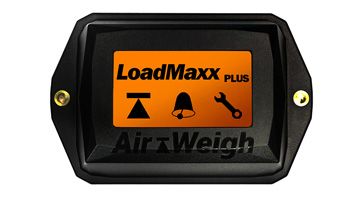 Air-Weigh Trailer Scales
Air-Weigh, a global leader in electronic onboard scales, is launching a new generation of trailer-specific onboard scales. Advanced communication and integration capabilities along with increased durability are key elements of the new LoadMaxx Plus and QuickLoad Plus product lines.
The LoadMaxx Plus model allows for third-party onboard software integration options when connected to a LoadMaxx Tractor Scale. In addition, both the LoadMaxx Plus and QuickLoad Plus scales are Bluetooth enabled and allow for communication to any smart device with the Air-Weigh app.
Utilizing the Air-Weigh app, drivers can view weight data on their smart device or easily email weights and location to a fleet manager or any email address. The scale features a user-friendly, icon-based touch-screen display and alarm functions that can be programmed for a warning and overweight trigger.
The new scales also feature a redesigned body and mounting system that provides increased durability and easier installation. The LoadMaxx Plus and QuickLoad Plus will be available for air-ride and most mechanical suspension axle options. Shipments of the new scales are slated for the end of the year. www.air-weigh.com
---
Kate Wade
Kate Wade has not set their biography yet
---