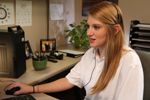 Up and Running
Who gets utility trucks that have been immobilized by tire problems up and running again so utility response crews can resume their important work of restoring gas, electricity and other services following severe weather incidents?
In many cases, the unsung heroes in this process are tire dealers whose service technicians rush to downed utility trucks to repair – and in some instances, replace – tires that have been damaged by storm-generated debris and other items strewn across roads and highways.
The key piece is connecting these tire dealers to utility service trucks whose drivers want to get back on the road. This is where Goodyear's new Storm Priority program enters the picture.
A Top Priority
The Goodyear Storm Priority program was created to make utility truck tire service a top priority because we know that when severe weather strikes, there is no time to waste. Every minute counts, not just for affected citizens who have lost access to critical utilities, but also for the utility companies that send trucks to storm-ravaged areas.
Goodyear Storm Priority takes the hassle out of tire dealer technician deployment. To access the service during and after power outages and other emergency situations – or while their trucks are on the way to and from power restoration efforts – utility fleets simply call a dedicated line: 1-855-STORMHQ. Also, as we know, utility trucks can experience tire-related issues while traveling outside of their home markets; Goodyear Storm Priority can assist trucks in this situation, too.
Calls that come in through the 1-855-STORMHQ number are considered high-priority and are immediately routed to the 24/7 Goodyear Solution Center, where trained tire professionals capture vital information, including the location of the caller's downed truck. The agents who staff the Goodyear Solution Center are more than voices on the other end of the phone – they receive intensive tire training, are familiar with vehicles and tire applications, and understand the seriousness of the situation.
After collecting the necessary information, the Solution Center professionals will locate and dispatch a service technician from the nearest participating Goodyear commercial truck tire dealer to the incapacitated utility truck's exact location. The technician will assess the truck's tire condition and render the tire service in order to remedy the issue.
The size and scope of Goodyear's service network – more than 2,200 locations across North America – mean that a servicing dealer is never too far away, another advantage for fleets that travel great distances to assist with power restoration. Deploying trucks from your base of operation in Pennsylvania to a hurricane-impacted section of Florida? You'll have coverage.
Utility fleets of all sizes and configurations can access Goodyear Storm Priority at no cost by dialing 1-855-STORMHQ.
Package Deal
At Goodyear, there's more to service than simply repairing a tire and then sending a truck on its way. We've developed a comprehensive suite of products, services and profitability tools to help fleets – including those in the utility industry – lower their total cost of operations. We refer to this as Goodyear's Total Package Solution, and our Goodyear-FleetHQ program is a big part of that.
Since its inception, Goodyear-FleetHQ, of which the 24/7 Goodyear Solution Center is an important component, has put more than 750,000 trucks of all types and classifications back on the road.
Emergency road service is just one piece of this holistic approach. In the fleet management business, knowledge is power. The better the data at its fingertips, the more efficiently a fleet can manage its assets, including the tires on its trucks. To give fleets access to as much information about their tires as possible, Goodyear-FleetHQ offers Tire Trac, a dynamic online tool that monitors the performance of a fleet's tires, as well as the fleet's service history – collecting, documenting and presenting key data in an easy-to-access format.
Through Tire Trac, utility fleets can zero in on an individual tire, or review the performance of their tires throughout their entire operation. This gives fleets the ability to compare cost-per-mile in different regions, and even identify issues that need to be corrected. Tire Trac also enables fleets to see details related to individual roadside service calls, including cost.
In addition, it gives fleets visibility into roll-time, the amount of time between the moment a truck driver calls Goodyear-FleetHQ and the moment his or her truck returns to service. Roll-time is the No. 1 critical area identified by fleets, and Goodyear-FleetHQ offers the best roll-time in the trucking industry: on average, just two hours and 11 minutes.
Tire Trac lets fleets see the details of their tire and service purchases as well. They can benchmark their spending against the last couple of months, or even years, and run reports by tire type, size and location.
It's crucial for utility fleets to leverage as much information as possible so they can be even better prepared to respond to severe weather incidents and other emergency situations. In light of the unpredictable weather that many parts of North America have experienced, optimal preparedness makes good sense, and will help utility crews carry out their vital work, which impacts so many people's lives.
About the Author: Jose Martinez is the business and digital solutions manager for Goodyear Commercial Tire Systems.
Fleet Maintenance, Tires & Brakes
---
Jose Martinez
Jose Martinez has not set their biography yet
---